AIOU All Program Admission 2023. The Allama Iqbal Open University (AIOU) All Program is thrilled to announce their Online Admissions for 2023, with a variety of programs, including BS, MS, and MSC. With a long tradition of delivering high-quality education via the use of distance education, AIOU is continuing to open the path for flexible and accessible higher education. Are you contemplating the possibility of pursuing a Master's or Bachelor's diploma in Pakistan? If so, then you might interested in the Allama Iqbal Open University (AIOU) for their BS/MS/MSC and BS/MSC degrees. AIOU is a highly regarded institution in Pakistan recognized for their dedication in providing a high-quality education for students of all backgrounds. The distance learning programs at AIOU allow students to pursue degrees in the comforts of their homes which makes education accessible to everyone.
AIOU BS/MS/MSC All Program Admission Online 2023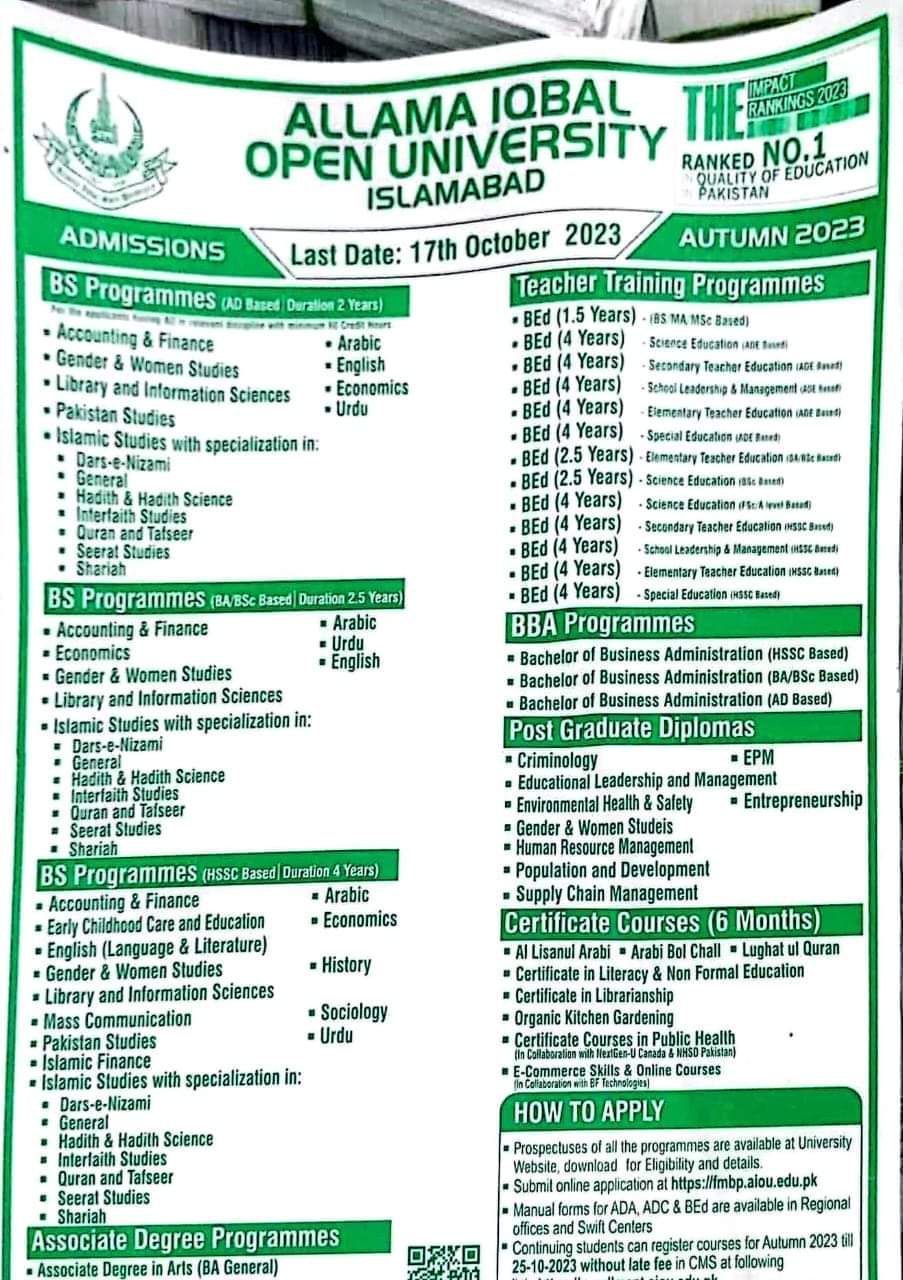 Introduction: AIOU All Program Admission 2023
The BS/MS/MSC degrees offered by AIOU provide a broad range of topics, ranging from management and business to education and computer science. With a wide range of classes to pick from, students can adapt their studies to their career interests and objectives. Embark on your educational journey with AIOU in 2023. Experience the blend of flexibility, quality, and innovation that AIOU renowned for. Whether you're pursuing personal growth or career advancement, AIOU's BS, MS, and MSC programs designed to cater to your aspirations. Apply now and open the door to a world of opportunities.
How To Get AIOU All Program Admission 2023
Admission to these programs is now available online for the year 2023. To apply, students must first create an account on the AIOU website and complete the online application form. They will also need to provide supporting documents, such as transcripts and identification. Once admitted, students will have access to a wealth of resources and support from AIOU. They will receive course materials and assignments through the online portal, and can communicate with their professors and classmates through discussion forums and email.
Benefits Of Study In  AIOU
One of the benefits of studying at AIOU is the flexibility it provides. Students can work at their own pace and schedule, allowing them to balance their studies with work and other responsibilities. This makes it an ideal choice for working professionals who want to advance their careers while continuing their education.
In addition to their academic programs, AIOU also offers a range of extracurricular activities and services for students. These include sports teams, student clubs, and career counseling services. This creates a vibrant community for students to engage with and learn from each other.
Why Choose AIOU?
1. Flexible Learning: AIOU is renowned for its commitment to providing education to those who cannot pursue traditional on-campus programs. With the flexibility of online learning, students can manage their studies alongside their professional and personal commitments.
2. Quality Education: AIOU upholds a high standard of education, ensuring that students receive a quality learning experience. Renowned faculty members and industry experts contribute to creating a dynamic and up-to-date curriculum.
3. Diverse Programs: From undergraduate programs (BS) to postgraduate studies (MS and MSC), AIOU offers a wide array of programs spanning various disciplines. Whether you're looking to enhance your career prospects or delve into a new field, AIOU has something to offer for everyone.
4. Innovative Teaching Methods: Leveraging technology, AIOU employs innovative teaching methods to engage students in meaningful learning experiences. Interactive online resources, virtual classrooms, and peer collaboration platforms foster an enriching academic journey.
Admission Process 2023:
1. Online Application: Prospective candidates can easily apply online through the AIOU official website. The user-friendly application portal guides applicants through the process, making it convenient and accessible.
2. Program Selection: Choose from a wide range of BS, MS, and MSC programs according to your interests and career goals. Carefully review the program details, eligibility criteria, and prerequisites before making your selection.
3. Document Submission: Upload the required documents, which may include academic transcripts, identification documents, and recent photographs. Ensure that all information provided is accurate and up-to-date.
4. Application Review: Once you've submitted your application, the university's admission committee will review your information. This process may take some time, so keep an eye on your provided contact details for any communication from the university.
5. Confirmation and Fee Payment: Upon acceptance, you will receive a confirmation of admission. Follow the provided instructions to complete the fee payment process. AIOU offers various payment options for your convenience.
6. Orientation: New students might be required to attend an online orientation session, where they can become familiar with the university's online learning platforms, resources, and support services.
Key Dates:
1 Application Window: [Start Date] – [End Date]
2 Admission Decision Notifications: [Date]
3 Fee Payment Deadline: [Date]
4 Orientation Session: [Date]
Concolusion
Overall, AIOU's BS/MS/MSC programs offer a great opportunity for students looking to further their education in Pakistan. With their commitment to quality education and flexible learning options, AIOU is a great choice for anyone looking to advance their career and achieve their academic goals.