The Punjab government launched the Sehat Card to benefit the poor of Pakistan. It provides free healthcare at top Punjab hospitals. You can easily check your eligibility for the Sehat Sahulate program by using the online Sehat card check and SMS facility. It is simple to check your eligibility. This article will provide you with a detailed guide on how to check your eligibility for the Sehat card in Pakistan. You can check your eligibility for the card online using the sehat card card check online. It is simple to check your eligibility.
Check Your Eligibility Sehat Sahulat Program
The government has made it easier for the masses. CNICs are now considered Sehat Cards and a person doesn't need to apply for any other cards. Before visiting any hospital, it is a good idea to verify your eligibility for free treatment. You can register online for your sehat card. Continue reading to learn how to check your eligibility for the qaumi card online in Pakistan and get your sehat insaf card immediately!
What is a Sehat Card?
The Sehat card, a card for health that provides free medical care to Pakistanis, is called the Sehat Card. The Pakistan Tehreek-e-Insaf Government has launched the Sehat Insaf Card to offer free medical care to families with low incomes. Sehat Insaf Card provides family members free medical care, and covers medical expenses up to 10 lakh rupees annually. Currently, all citizens of Punjab and KP are eligible for Sehat Insaf card treatment. However, the government plans to expand this free medical care facility to all Pakistanis. This is undoubtedly a groundbreaking step that will make healthcare more accessible for all citizens of Pakistan. Sehat Card Hospital List
Check Your Eligibility Sehat Sahulat Program & Hospital Name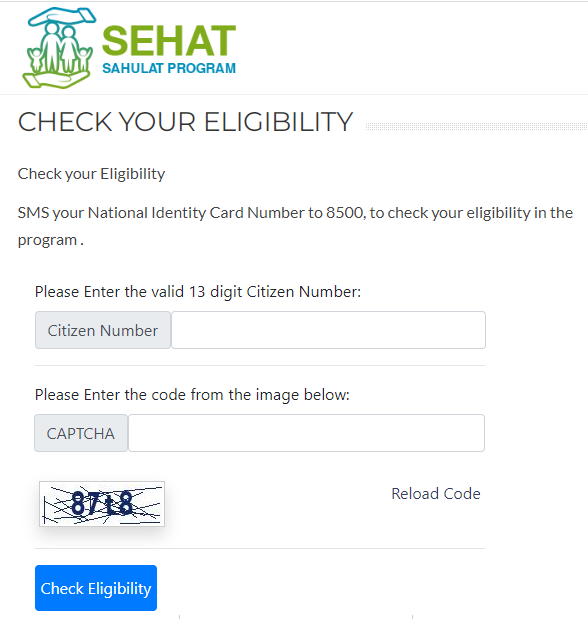 Patients can get free treatment at any of the 651 top hospitals in Punjab with the sehat sahulat cards. Click on the link to view the complete sehat card hospital list. Check Sehat Card Eligibility
How to check Sehat Card eligibility – Other ways
These are the ways to check your eligibility for insaf sehat cards online.
Sehat Card Eligibility via SMS
Through SMS, you can check your eligibility and register for the insaf card. To do this, send an SMS with your National Identity Card number (NIC) to 8500
Check Sehat Card Eligibility through the Naya Pakistan Qaumi Sehat card
The Naya Pakistan Qaumi Sehat Card App allows you to check your eligibility for a health card. The app can be downloaded free of charge from the Google Play Store and App Store.
FAQs
میرے صحت کارڈ کی میعاد ختم ہوگئی ہے۔ نیا کارڈکیسے حاصل کیا جاسکتا ہے؟
-صحت کارڈ کی میعاد ختم نہیں ہوتی۔ کارڈ کی میعاد ختم ہونے کی تاریخ میں توسیع ہر سال خود بخود ہوجاتی ہے
صحت کارڈ میرے والدین کے نام پر ہے۔ کیا میں اس میں اپنا علاج کروا سکتا ہوں؟
ہاں ، اگر آپ غیر شادی شدہ ہیں۔
اگر آپ شادی شدہ ہیں ، تو آپ کے والدین کے کارڈ میں آپ کا علاج ممکن نہیں ہے
میرا نام صحت سہو لت پروگرام میں شامل نہیں ہے۔ میں اپنا اندراج کیسے کروں؟
صحت سہو لت پروگرام میں اندراج کا کوئی طریقہ کار نہیں ہے۔ -اگر آپ خیبر پختونخوا سے ہیں ، تو حکومت خیبر پختونخواہ کے اعلان کے مطابق ہر خاندان کو تقریبآ دو سےآٹھ مہینوں میں اپنا کارڈ مل جائے گا ]
کیا اس کارڈ میں ہر طرح کی بیماریوں کا علاج کیا جاتا ہے؟
-اس اسکیم میں کسی بھی قسم کی او پی ڈی علاج شامل نہیں ہے -اس کے علاوہ جو علاج اس اسکیم میں نہیں ہے وہ ڈاؤن لوڈ سیکشن میں موجود ہے
اگر کارڈ استعمال نہیں کیا گیا، تو اس میں موجود رقم ادا کی جائے گی؟
ہر گز نہیں۔ کارڈ صرف اسپتال میں داخلے اور علاج کے لئے استعمال کیا جاسکتا ہے۔ استعمال نہ کرنے کی صورت میں کسی بھی قسم کی رقم فراہم نہیں کی جائے گی
Please send your citizen number to 8500 to check your eligibility in the program as per BISPÂ survey. In case of eligibility, you will be notified from where you can receive your health card.This program is targeted towards poor Pakistani citizens who are part of the BISP Survey only.
Your CNIC is your Sehat Card: If you are eligible, you can use your CNIC card as your default Sehat Card. 3. Gather Information and Documents Required: Select your desired empaneled hospitals for Sehat Sahulat Program. Take your original CNIC when you visit the Government/ Private hospital.
* You can also SMS your National Identity Card Number to 8500 to check your eligibility.
A family can use up to 400,000 PKR for priority health care services and 60,000 PKR for secondary health care services. Family can benefit from the card till cash limit is available. Additional financial limits are allocated to family in life threatening conditions and in case of maternity.
Conclusion
If you have the nationality of Pakistan and also have the CNIC then you are able to check Insaaf Sehat Card Online through SMS or App and through contact number : 0800-09009. These are the options available to register and check for your sehat card online or offline.