Did you receive an ISSB notification? Are you worried about ISSB Preparation? NO worries. We're here to help you successfully succeed in your ISSB Test. When you receive your ISSB call letter, tension and anxiety in most applicants are evident. ISSB Exam Preparation in accordance with ISSB 5 days Test procedure is the most important factor to be approved by ISSB. Before you begin your preparation, it is essential to have a comprehensive guide to the ISSB exam procedure. ISSB test isn't as simple as people think to pass. Through the ISSB test, just about 6%- 10% of the test takers will recommend it.
It is essential to work hard to succeed; however, candidates must be able to work hard and do plenty of practice in this instance. ISSB test is a test that requires repetition for each stage. This article will walk you through the ISSB test step by step. Although they are extremely happy having passed their tests and are fit for medical examinations, they are all concerned about what they will find in the ISSB center.
How To Get Recommended In ISSB 2023
If you're the lucky person to receive this ISSB call letter, be fortunate and thank Allah for this chance since, if you're lucky, it's going to be a once-in-a-lifetime event that will transform your life completely. You might have heard that the chance of passing the ISSB Test is not so high, and many fail their first time; however, this isn't the scenario. If you meet all the standards set by the authorities, you will easily pass the ISSB Test. The only thing you have to do is stay conscious and attentive to the things you'll be doing there.
ISSB Recommended Candidates List 2023
Many things can assist you in passing the test; however, just as the interviews you've been through when you applied for other jobs, certain typical factors play a significant part. Most people ignore themselves when they take the ISSB Test because they panic and feel anxious, but keep in mind that you could be chosen or not selected based on your qualities. Download ISSB
ISSB Requirements for Females
We can help you improve the superficial characteristics that you think are unimportant or feel too confident about them, thinking and believing that you've got them within yours. A single mistake could cause us to fail. If there's an opportunity to improve in your life, then why not make use of it?
How To Get Recommended In ISSB 2023 Candidate List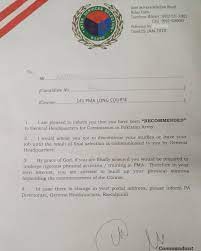 8 Easy Things to be aware of in the ISSB
Appearance
Expression
Self-confidence
Academic ability
Leadership
Fitness
Motivation
Awareness
Let's talk about these essential tips in detail and let your mind expand.
Appearance
Remember the words of Friedrich Schiller said,
"Appearance determines the world. "
And there's an undisputed fact. If you think of officers from the army having personalities, they have a sense of pride and a sense of pride. People are drawn to the military because they are eager to appear similar to them. It's the way they dress, the way their uniforms are, and how they communicate with each other. Have you ever thought they are the same as you, and now they're the ones from whom you draw inspiration? They're the ones working on their appearance because when you have a personal appearance, you can do various things.
Concentrate on your character. Take a look at the mirror. Have you created a positive image of yourself? Do you appear like you're trustworthy? What's the first thing that occurs to your mind when people think of you? You can ask your friends and family, and improve your appearance? If you cannot change your appearance in line with the current trends, you can't do anything.
If we are going to the workplace or college, we dress to go out, put on delicate shoes and a dress and take a look in the mirror before heading back home. This is also the case with the ISSB Test. It would be best if you looked well-groomed regardless of your character. In the end, they're choosing as an Army officer.
Expression
After you've worked on your appearance, The next step is to pay attention to your facial expression. Your Selection Board always select such individuals with a striking appearance, and by this, we are referring to your language, regardless of whether it's English or Urdu fluency, clarity when speaking as well as the rhythm and tone that your voice has grammar, and those words which you pick during your conversation.
The way you express yourself can be improved by practicing the most. One of the easiest ways to communicate effectively is to be involved in debates and discussions in groups. Discuss with your family and your friends about a specific subject. Check your reflection and talk about any topic for a long duration so that you can examine how you appear when you speak and how long pauses you have to take or how many times you find yourself stuck when speaking and what is your proficiency level and do you possess enough information to be able to speak on specific topics.
Self-confidence
Self-confidence is the most appealing quality that a person could have. Who can tell how great you are even if you don't see it yourself? Find self-confidence. If you're an introvert and aren't at ease around people or in gatherings, you are at risk of being rejected. When you take part in ISSB Test Centers, you will be assigned various tasks that will require teamwork and group discussions. If you're not comfortable around strangers, you may not be able to give your best, resulting in you being a low-scoring candidate.
Self-confidence is built by believing that you can accomplish it and that you're no different than any other person. You can increase your confidence by participating in group activities or taking on specific responsibilities on your own and then putting your faith in your abilities.
Keep in mind that if confident and outgoing but also self-confident, do not try to appear excessively smart. The Selection Board is concerned that they'll never choose an unconfident or insecure candidate. Therefore, there has to be a certain amount of balance that needs to be kept.
Academic Ability
If you're an English and Maths person, You have a good point as you will be able to complete many written tests offered at the ISSB Test Centers. Being an excellent academic is always a benefit; however, those who struggle in these areas or who are not scoring in general education shouldn't feel like they are a failure since grades aren't the only thing. We have many acquaintances who are army officers who have made it to the top; however, they didn't perform as well during their academic careers. Perhaps you're not great in this area, but you might be superior in other areas than your peers.
Leadership
If you possess all the characteristics mentioned above, You must have the ability to lead. This is crucial because you'll become the next Army Officer. You could lead and manage many others in the future. A great leader is their team's most essential and most significant concern since the leader is not there if the team doesn't exist. If you're looking to become an effective leader, you must study some of the best leaders. What were their methods of leadership? What was their character? What did they do to handle stress? Did they be afraid? Etc.
The most effective way to become an effective leader is to be patient, active, and people-oriented. Since this is the most prevalent characteristic of the ISSB Test, You need to develop your leadership abilities.
Fitness
When we speak of fitness, we discuss physical and mental fitness. If you're an exercise or gym-goer, you stand a good chance because, in the ISSB Test, you have to complete various physical exercises, which take your energy and stamina to the limit. Develop stamina and endurance for strenuous physical activities like running, jogging, or other exercises. But don't perform these before you go to the test; otherwise, your muscles will get cramped.
Fitness in the emotional realm is just as vital in the same way as physical health. When your brain is sound and well-balanced, you'll be able to pass the emotional tests that experienced psychotherapists administer on the ISSB Test center. They'll be able to tell which kind of person you're immediately and will not allow you to be a fool.
Motivation
A motivated person understands the reason for doing an action. If you're planning to take an ISSB Test, you should know the reasons for your visit and be at ease. The person taking the test must be aware of his purpose and be determined to fulfill it. Even though fate can take us wherever it pleases, it is essential to be clear about the goals they want to achieve and be determined to reach them.
Don't be content with the fact that you're there because it came up unexpectedly, and your future is in the hands of others. You must be enthusiastic about your presence.
Awareness
Not least, you should be aware of all that is going on around you and all over the world. You should be tuned into the television as well as the internet to keep up with the latest trends, read some stories from the past, and conduct as much research on ISSB along with those in the Armed forces as you can. There will be general-knowledge questions that you will be asked during your tests at the ISSB Center, and if you know the context, you'll be able to answer the questions correctly.
Read the daily newspaper and discuss current events and defense concerns with people around you. This can open your eyes to various aspects.
These eight aspects can help you have an increased chance of being chosen. But, there's no 100% assurance that, even if you have all these aspects in place of the interview, you will be referred to; however, there is a better chance that you will not be disqualified. Concentrate on these helpful techniques and work to improve your skills.
How Do I Be Recommended by ISSB?
Today is the day that ISSB tests your browser using three different dimensions.
1.) Psychological (tested by an ISSB psychologist)
2.) Physical tests (tested through ISSB GTO)
3.) Intellectual Tests and GK (tested by ISSB vice-president)
If you want to be recommended by ISSB, You must obtain recommendations from at least two dimensions. One of which is that of the psychologist. If, for instance, you're recommended by GTO or the vice President; however, the psychologist is against your recommendation, ISSB will not "recommend" you.
The psychologists check whether you exhibit any signs that indicate a negative mentality or are a genius who is evil. They assess whether you will endure the rigors of Academy life or not if you are selected.
Two characteristics define psyche tests
1.) The written test you took (of which I'll explain everything in-depth)
2) Interview with a psychologist (which is an extension of your written test and questions are mainly derived from your dossier, i.e., the file comprised of your psych test results)
In addition, I am of the opinion that the conclusions that a psychologist draws about your mental state are passed on towards you GTO and your Deputy President. They then provide you with lecture subjects and pose questions regarding your mental health.
Another issue on the last occasion was that I did not understand GTO tasks. I spoke to a variety of groups was recommended or repeated candidates. But none could direct me. I visited ISSB and examined the report myself, and I did poorly in GTO tasks as I did not have any prior preparation. My GTO stated, "Can't manage in a circumstances" in my application because I failed to finish my task in command, which is essential to the GTO's decision. This is usually written in the case of those who fail to finish their task. Here's a post to give you a glimpse of what the GTO tasks look similar. I'll be commenting on the hand-drawn models of GTO assignments (I hope you understand the concept as my drawings are poor). I'm only able to remember a few of my assignments.
GTO tasks come in two types
Indoor
It includes group discussions, lectures (individual speech), and group planning (you receive a scenario in a model and must resolve it. Usually, it's like the enemy has taken citizens hostage, and you have to save them in the timeframe. You are provided with 15 minutes to develop an action plan).
Outdoor tasks
These are Progressive Group Task, Half group task and Command task (each person becomes a commander and receives 4-5 others to form their army), and individual obstacles.
Are you pass the initial test for PMA, PAF, or Pakistan Navy? Did you receive an ISSB invitation letter? Are you worried regarding ISSB Preparation? There's no need to be worried. Here's how I can help you to get through this ISSB Test.