Punjab Public Service Commission has announced the latest jobs in irrigation department on behalf of Punjab Government. Punjab Irrigation Department Test PPSC Roll No Slip. Irrigation Department Junior Computer Operator Jobs written test dates have been released on the official website by PPSC. Currently, the Punjab Public Service Commission is accepting online applications. Candidates who are interested in working in the irrigation department must submit their applications before January 16th, 2023. PPSC offers a number of projects for employment and admittance each month in accordance with the appropriate directives from the relevant government, non-government, and semi-government departments. The candidate submits an application for any open positions or admissions and waits for the next stage of the written test. Roll, Number Slip 2023 for PPSC To pass the job entrance exam and test for the test, online is simple to download.
PPSC Irrigation Department Jobs 2023
Online applications must submitted in full by the candidate. The online application form, eligibility requirements, deadline for submission, roll number slip, test date, and interview schedule are all shared on this website. Applications with Pakistani nationality and Punjab Province residency accepted for these positions. If any candidate has trouble downloading their application form or bank challan, contact us and we'll help you out as soon as we can. Candidates for the Junior Computer Operator Irrigation Department Jobs may access this link to obtain their online roll no slip.
PPSC Punjab Public Service Commission Roll No Slip 2023
From the Punjab Public Service Commission PPSC Roll No Slip 2023, download and print the Admission Letter for Written Test by CNIC, Roll Number, and Name. To access the PPSC Roll Number Slip 2023, click this link. On www.ppsc.gop.pk, enter your CNIC and choose the position you are interested in. It's rather simple to get the PPSC Roll No Slip test 2023 Online for the entrance exam and employment exam. The key to appearing in the written test is the PPSC roll number slip. Additionally, the PPSC roll no slip has all the applicant's information, including name, father's name, test date, test location, candidate roll number, and test timing. If you don't have a roll number slip, don't waste any more time and acquire one here. Click Here
PPSC Test Schedule Punjab Irrigation Department jobs 2023
If you're interested in working for the Punjab Irrigation Department, please see our most recent job test roll no slip 2023. All the information you need to apply for a jobs 2023.
Punjab Irrigation Department Test PPSC Roll No Slip 2023 Test Date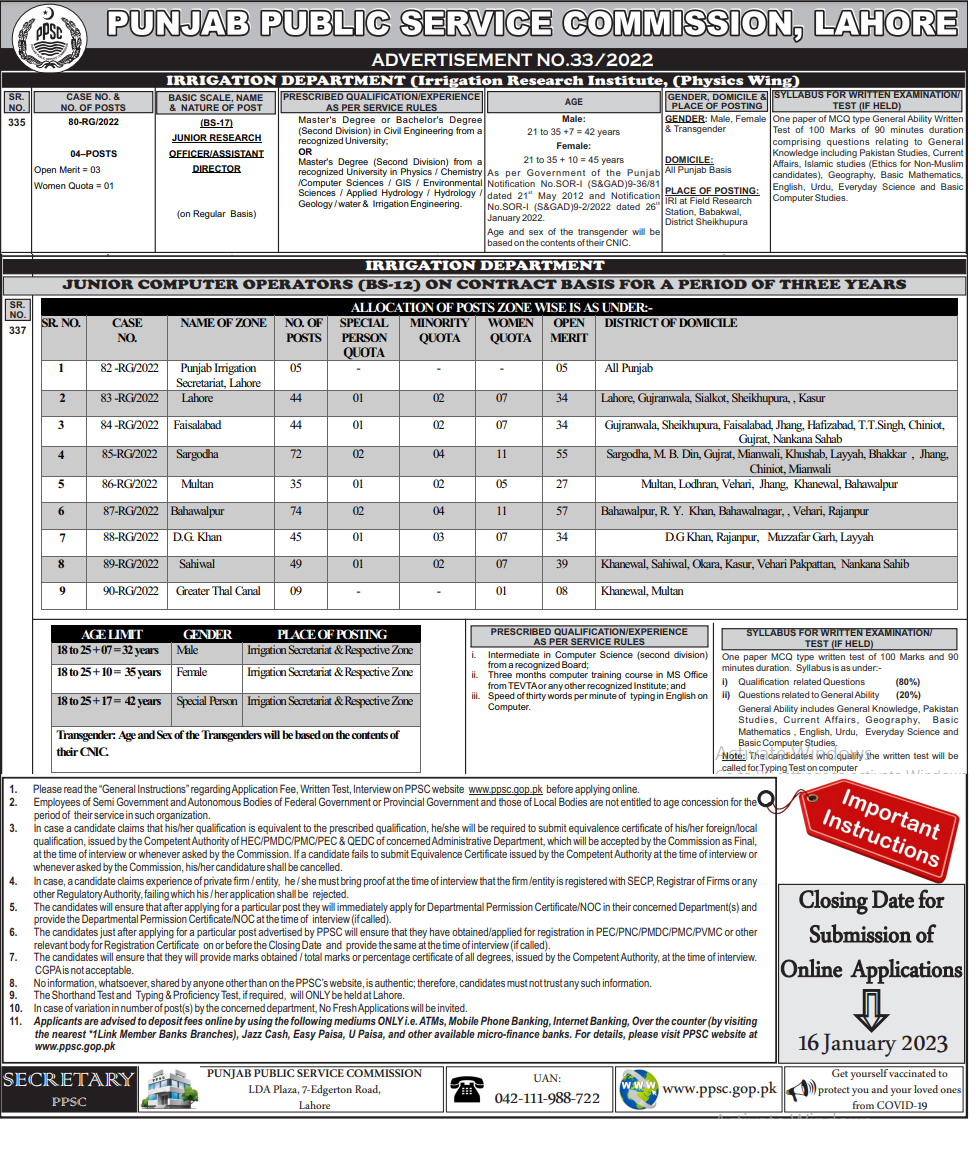 With PID is in this booklet. You are aware that the PPSC follows a pattern whereby, prior to the test date, it issues the roll numbers of qualified candidates and publishes. The exam schedule on its official website. Candidates can access their roll number slip online from this page with their CNIC number. PPSC Roll No Slip Online
PPSC Test Roll No Slip 2023 Download Online By Name CNIC
Candidates who advanced to the test and interview will receive a PPSC Roll Number Slip. Ordinarily, the PPSC sends PPSC Test Roll Number Slips.
PPSC Test Schedule 2023
PPSC Online Apply 2023 Challan Form www.ppsc.gop.pk
PPSC Test Preparation Books Past Paper MCQs PDF
How To Download PPSC Roll No Slip 2023?
The candidate can examine all listing number records, including details and online test centres, after entering their CNIC number. Additionally, the reel number slips can printed at the requestor's request. The candidate can select the print option, then press (Ctrl + P), to get the PPSC to send them a photo of their voucher number.
PPSC Test Date 2023
Your roll number will fluctuate a lot. Make a physical copy of it to begin with. A physical copy of the roll number slip or admittance letter is necessary for enrollment or participation in the test. You won't allowed to take the test if you don't meet these requirements.
Candidates Lists:
Before obtaining your roll no slips, all applicants to the PPSC Test Online must review the list of selected candidates and rejected candidates to verify their selection for the test.
Keep coming back, and let us know if you need any more help with PPSC Roll No Slips in the comments section below.