The Women University Multan Admission 2023-24, is a premier institution dedicated to providing quality education to women in Pakistan. Established in 2012, the university has quickly gained a reputation for excellence in academics, research, and community engagement. As we gear up for the admission season of 2023-24, we invite aspiring young women from across the country to join us on our mission of empowering women through education. Established with the vision of promoting women's education and empowering them to become leaders in various fields, The Women University Multan has consistently upheld its tradition of academic excellence. With a diverse range of undergraduate, postgraduate, and doctoral programs, the university offers a comprehensive education that equips students with the knowledge and skills needed to thrive in today's competitive world. Online Admission
The Women University Multan Admission 2023-24 Online Apply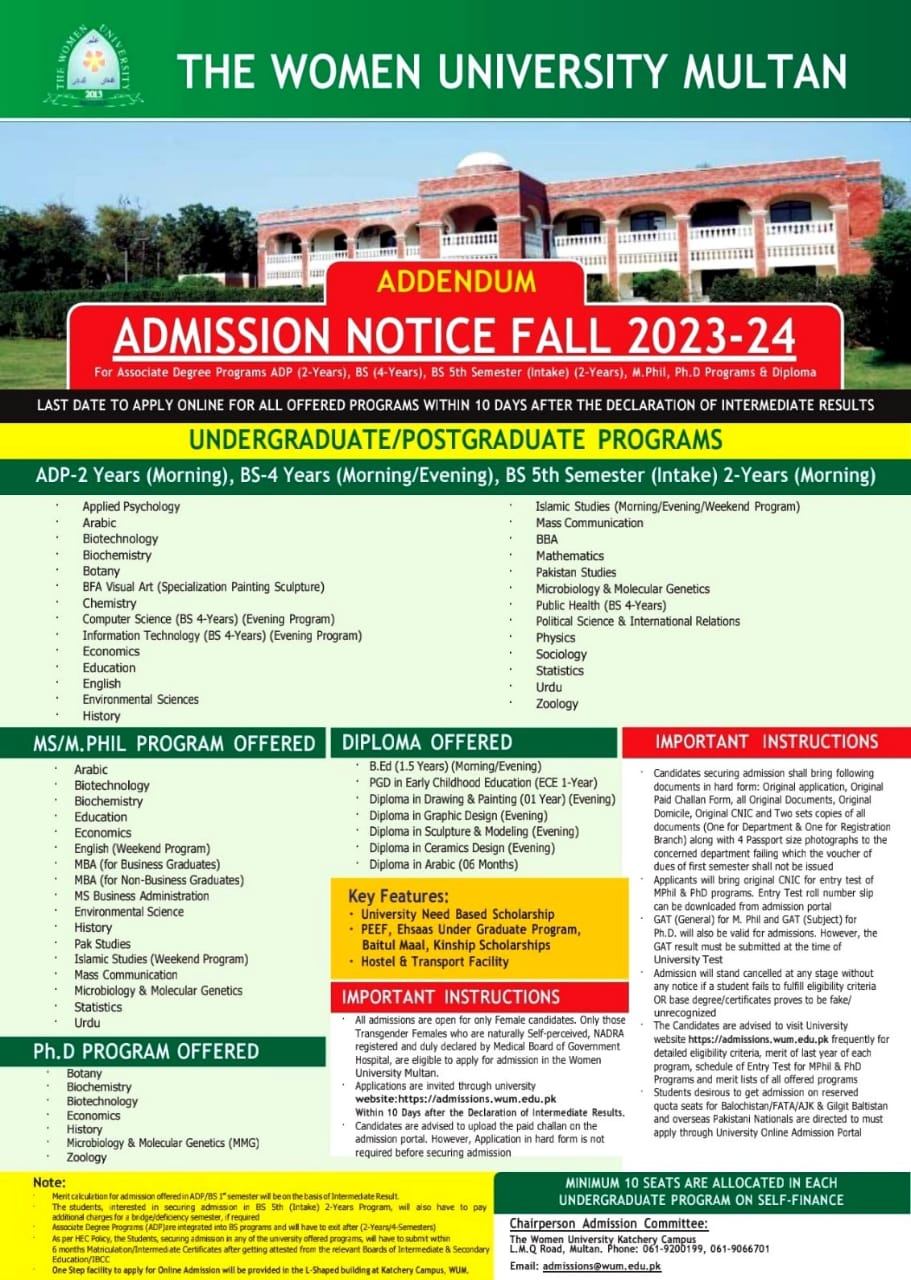 Introduction:
The Women University Multan a prestigious institution dedicated to empowering women through education and fostering an environment of academic excellence. The university's commitment to providing quality education reflected in its admission process for the academic year 2023-24. In this article, we will delve into the details of the admission process, emphasizing the ease of applying online and the university's mission to shape the future of aspiring female scholars. Click Here
Why Choose The Women University Multan?
At The Women University Multan, we believe that education the key to unlocking the full potential of women. Our curriculum designed to provide a well-rounded education that prepares our students for success in their chosen careers. We offer undergraduate, graduate, and postgraduate programs in a variety of disciplines, including arts, sciences, and social sciences.
Our faculty comprised of highly qualified and experienced educators who dedicated to providing our students with the best possible learning experience. They committed to helping our students achieve their academic and professional goals and are always available to provide guidance and support.
In addition to academic excellence, we also place a strong emphasis on research and community engagement. Our students have access to state-of-the-art research facilities and encouraged to participate in research projects that address real-world problems. We also have a number of community engagement programs that allow our students to give back to their communities and make a positive impact on society.
Admission Requirements
To apply for admission to The Women University Multan, applicants must meet the following requirements:
1 Applicants must have completed their intermediate education or equivalent with a minimum of 45% marks.
2 Applicants must pass the university's admission test with a minimum score of 50%.
3 Applicants must submit all required documents, including transcripts, certificates, and a copy of their CNIC or B-form.
How to Apply
The Women University Multan offers online application services for the convenience of applicants. To apply online, follow these simple steps:
1. Visit the university's website and click on the "Admissions" tab.
2. Create an account by providing your name, email address, and password.
3. Fill out the application form with all required information.
4. Upload scanned copies of all required documents.
5. Pay the application fee online through the university's payment portal.
Once your application has submitted, you will receive a confirmation email with your application number. You can use this number to track the status of your application.
Important Dates
The Women University Multan has announced the following important dates for the admission season of 2023-24:
1 Admission test: To be announced
2 Last date for submission of applications: To be announced
3 Display of merit list: To be announced
4 Commencement of classes: To be announced
Contact Information
If you have any questions or concerns regarding the admission process or any other aspect of The Women University Multan, please feel free to contact us at:
Address: The Women University Multan, Bosan Road, Multan
Phone: +92 61 9330524
Email: info@wum.edu.pk
Conclusion:
The Women University Multan is a place where young women can come to realize their full potential and achieve their dreams. We committed to providing our students with a world-class education that prepares them for success in their chosen careers. If you are a young woman looking for an institution that values education, research, and community engagement, we invite you to join us at The Women University Multan. Apply online today and take the first step towards a brighter future!