Admissions Ghazi University DGK campus 2023. Are you looking to pursue higher education in Pakistan? If so, Ghazi University DGK campus may the perfect fit for you. The university offers a range of undergraduate and graduate programs in various fields, including business, engineering, and social sciences. If you're interested in applying for the 2023 academic year, you'll pleased to know that the university has made the application process simple and convenient. You can now apply online from the comfort of your own home, avoiding the hassle of long queues and paperwork. To apply online, simply visit the university's official website and navigate to the admissions section. From there, you'll asked to create an account and fill out an application form. The form will require you to provide your personal details, academic history, and any other relevant information. Online Apply
Admissions Ghazi University DGK campus 2023 Online Apply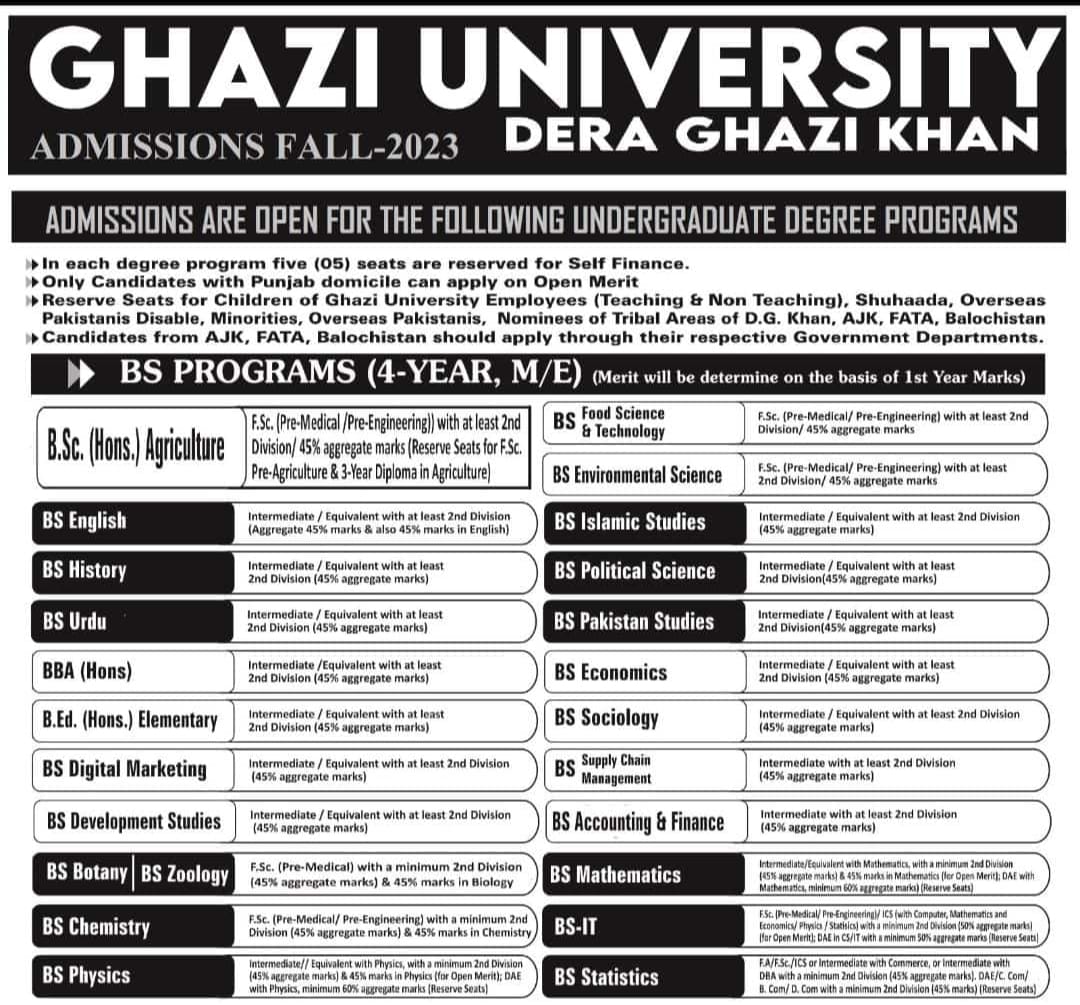 Introiducton:
Look no further than Ghazi University DGK Campus, where opportunities for academic growth and personal development abound. The year 2023 promises to be a remarkable one, with our institution opening its doors to aspiring students who aspire to shape their futures in an intellectually stimulating and culturally rich environment. Click Here
Why Choose Ghazi University DGK Campus?
Ghazi University DGK Campus, located in the heart of Dera Ghazi Khan, has earned a reputation for academic excellence, innovation, and holistic development. Here's why you should consider joining us:
Diverse Academic Programs: We offer a wide range of undergraduate and postgraduate programs across various disciplines, including sciences, humanities, social sciences, and technology. No matter your academic interest, we have a program that suits your aspirations.
Experienced Faculty: Our faculty members are experts in their respective fields, committed to nurturing your intellectual curiosity and providing mentorship every step of the way.
State-of-the-Art Facilities: Our campus equipped with modern facilities, including well-equipped laboratories, a comprehensive library, sports amenities, and comfortable student accommodations.
Research Opportunities: Ghazi University DGK Campus encourages research and innovation. Students have access to research grants, and our faculty actively engages in cutting-edge research projects.
Extracurricular Activities: We believe in holistic development. Join clubs, societies, and events that cater to your interests, and unleash your full potential beyond the classroom.
Admissions 2023: Online Apply Process
Applying to Ghazi University DGK Campus has never been easier. We've streamlined our admission process, making it convenient and accessible for aspiring students. Here's how to apply online:
Visit our Website: Head to our official website, where you'll find detailed information about the available programs, admission criteria, and important dates.
Create an Account: To begin your application, you'll need to create a user account on our online portal. This account will allow you to track the status of your application and receive important updates.
Complete the Application Form: Fill out the online application form with accurate information. Make sure to upload the required documents, including your academic transcripts and identification.
Pay the Application Fee: A nominal application fee is required to process your application. Pay this fee securely through our online payment gateway.
Submit Your Application: Double check all the details, and once you're satisfied, submit your application. You'll receive a confirmation email to acknowledge receipt.
Wait for Admission Decisions: Our admission committee will review your application carefully. You'll be notified of the admission decision via email or through your online portal account.
Prepare for Enrollment: If you're accepted, congratulations! Prepare for an exciting academic journey with Ghazi University DGK Campus. Follow the enrollment instructions provided in your acceptance letter.
Don't miss the opportunity to be a part of the Ghazi University DGK Campus family in 2023. Our institution dedicated to fostering knowledge, skills, and values that will shape your future and contribute to society. Join us, and together, we'll pave the way for a brighter tomorrow.
Apply online first step toward your academic dreams at Ghazi University DGK Campus
Once you've completed the application form, you'll need to upload supporting documents, such as your academic transcripts and identification documents. It's important to ensure that all documents are clear and legible to avoid any delays in the processing of your application. After submitting your application, you'll receive a confirmation email from the university. This email will contain important information about the next steps in the admissions process, such as when you can expect to receive a decision on your application.
It's worth noting that admission to Ghazi University DGK campus is competitive, and meeting the minimum requirements does not guarantee acceptance. As such, it's important to put your best foot forward when completing your application and ensure that you meet all the admission criteria.
Conclusion:
In addition to academic qualifications, the university also considers other factors such as extracurricular activities and community involvement when making admissions decisions. This means that it's important to highlight any relevant experiences or achievements in your application. Overall, applying for admission to Ghazi University DGK campus a straightforward process that can completed online. By following the steps outlined above and putting your best foot forward, you can increase your chances of being accepted into one of Pakistan's leading universities.