The Pakistan Air Force (PAF) Registration Online 2023 has announced that it will be launching online registration for 2023. This is a chance to young and talented people who want to be a member of PAF. In this blog we will provide you with instructions in applying in the process of PAF registration online. We'll also give you all the details you require. Are you eager to rise up to new levels? Are you ready to take flight? Pakistan Air Force (PAF) invites hopefuls to begin a journey of excellence with its Online registration for 2023. This isn't simply an advertisement, it's a chance for you to take your dream into flight. The PAF is well-known for its dedication to innovation, top-of-the-line technology and a long-standing tradition of courage. Online Registration
PAF Registration Online 2023 Advertisment https://joinpaf.gov.pk/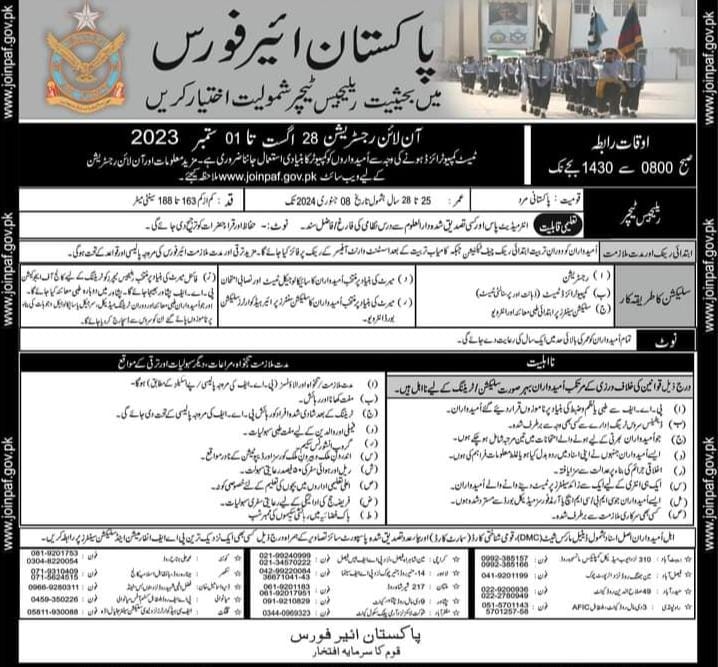 Introduction
Being a part of the PAF is becoming a part of a history that has spanned generations of brave women and men who have fought for their country with a sense of honor and devotion. With the PAF Online Registration 2023, you can seize the opportunity to be a part of this prestigious institution. Whether you aspire to be a fighter pilot, an engineer, a medical professional, or work in any other specialized field, PAF offers a wide range of career options to match your skills and interests. Click Here
Benefits Of  PAF Registration Online 2023
Joining the PAF isn't just a job – it's a way of life. As a member of the PAF family, you'll enjoy unparalleled benefits, including world-class training, state-of-the-art facilities, competitive pay, and a chance to serve your nation with pride.
Eligibility Criteria PAF Registration Online 2023:
Before we dive into the application process, let's take a look at the eligibility criteria for PAF registration. The following are the requirements that you need to fulfill:
1. Age: The age limit for candidates is between 16 to 22 years. However, for some branches, the age limit is up to 24 years.
2. Education: Candidates must have completed their Matriculation or equivalent with at least 60% marks. For some branches, Intermediate or equivalent is required.
3. Nationality: Only Pakistani citizens are eligible to apply.
4. Physical Fitness: Candidates must meet the physical fitness standards set by the PAF.
Application Process 2023
Now that you know the eligibility criteria, let's move on to the application process. Follow these steps to apply for PAF registration online:
Step 1: Visit the PAF official website (www.joinpaf.gov.pk).
2: Click on the "Registration" button on the homepage.
3: Fill out the online registration form with your personal information, educational background, and             other required details.
4: Upload your recent passport size photograph and scanned copies of your academic certificates.
5: Submit the application form and print out a copy of it for future reference.
Selection Process 2023
After submitting your application, you will be required to undergo a series of tests and interviews to assess your suitability for PAF service. The selection process includes the following stages:
1. Intelligence Test: Candidates will have to take an intelligence test that will assess their problem-solving abilities and cognitive skills.
2. Academic Test: Candidates will also have to take an academic test that will evaluate their knowledge in subjects like English, Mathematics, and Physics.
3. Initial Medical Examination: Candidates who pass the intelligence and academic tests will be called for an initial medical examination to determine their physical fitness.
4. Interviews: Shortlisted candidates will be called for interviews with a panel of PAF officers.
5. Final Medical Examination: Candidates who pass the interviews will be required to undergo a final medical examination to ensure their medical fitness.
6. Final Selection: The final selection will be made based on the candidate's performance in all the above-mentioned stages.
Important Dates
Mark your calendars for these important dates:
• Opening of Online Registration: [Insert Date]
• Closing of Online Registration: [Insert Date]
Don't miss this chance to be a part of the PAF family. The sky is not the limit – it's just the beginning. Register online for PAF 2023 and take the first step towards an extraordinary future.
Conclusion
The PAF registration online 2023 is an excellent opportunity for young individuals who want to serve their country by joining the Pakistan Air Force. We hope that this blog post has provided you with all the necessary information you need to apply for PAF registration online. Remember to fulfill all the eligibility criteria and prepare well for the selection process. Good luck!