In AIOU Admission Online 2023 constantly changing landscape of higher education Allama Iqbal Open University (AIOU) is an ideal model of flexible educational opportunities and learning. Another important step for AIOU in its efforts to provide seamless admissions online. If you're interested in taking up higher education using the ease of online learning check out this article to learn how AIOU's admissions process online for 2023 could open the door towards the academic excellence.Allama Iqbal Open University (AIOU) has announced admissions for 2023. The admissions process has been made easier for students, as they can apply online. AIOU is among the top universities in Pakistan which offers distance-learning programs for students across the country. AIOU has a broad selection of programs for students that include undergraduate, graduate and postgraduate courses.. The website provides a step-by-step guide on how to Apply for Admission.
AIOU Admission Online 2023: Your Gateway to Academic Excellence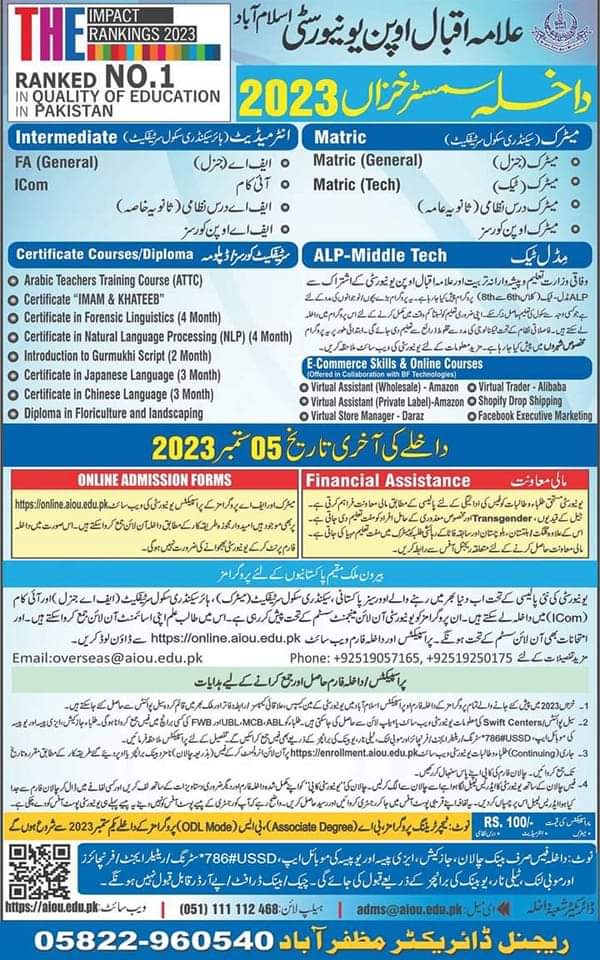 Introduction: AIOU Admission Online 2023
For decades, Allama Iqbal Open University has been a trailblazer in distance education, catering to diverse learners who seek quality education alongside their commitments. With the commencement of online admissions in 2023, AIOU set to redefine remote learning by combining innovation, expertise, and accessibility.
The Online AIOU Admission Online 2023 Process
The online admissions process at AIOU is designed to user-friendly and streamlined. Prospective students can visit the official AIOU website, where they'll find a dedicated admissions portal. This portal guides applicants through a step-by-step process, ensuring that the journey from application submission to enrollment is smooth and hassle-free.
Available Programs and Specializations
AIOU offers a wide array of programs and specializations across various disciplines, ranging from arts and humanities to sciences and technology. Whether you're aspiring for a bachelor's, master's, or doctoral degree, AIOU provides options that cater to your academic and professional goals.
Flexibility for Working Professionals
One of the standout features of AIOU's online admissions is the flexibility it offers to working professionals. Whether you're already employed or managing personal commitments, AIOU's online programs allow you to pursue higher education without disrupting your current lifestyle. AIOU's virtual learning environment is designed to foster engagement and interaction among students and faculty. Through multimedia lectures, discussion forums, and interactive assignments, students can enjoy a dynamic learning experience that goes beyond traditional classroom boundaries.
Scholarships and Financial Support
Understanding the importance of affordability, AIOU provides scholarships and financial support to eligible students. These initiatives make quality education accessible to a wider range of individuals, ensuring that financial constraints do not hinder academic aspirations.
AIOU's Distinguished Faculty
At AIOU, learning guided by experienced and renowned faculty members who are experts in their respective fields. With a commitment to delivering knowledge that's both practical and relevant, AIOU's faculty ensures that students receive a well-rounded education.
Networking Opportunities and Alumni
Being part of AIOU means joining a thriving community of learners and alumni. The university provides ample networking opportunities that extend beyond the virtual classroom, enabling students to connect with like-minded individuals and professionals from diverse backgrounds.
Embracing Diversity in the Virtual Classroom, Supportive Student Services
AIOU's online platform brings together students from various geographic locations and cultural backgrounds. This diversity enriches discussions, broadens perspectives, and prepares students to thrive in a globalized world. AIOU's commitment to student success reflected in its comprehensive student services. From academic counseling to technical support, the university ensures that students have the resources they need to excel in their studies.
The Future of Education: AIOU's Technological Integration
AIOU's move towards online admissions and virtual learning a testament to its embrace of technology in education. As the digital landscape evolves, AIOU remains at the forefront of innovative pedagogical approaches that empower students for the future.
Join the AIOU Community: Enrichment Beyond Academics
Beyond academics, AIOU offers a plethora of extracurricular activities and clubs that allow students to pursue their interests and hobbies. Joining these clubs provides an opportunity to make friends, develop new skills, and create lasting memories.
Conclusion
In a rapidly changing world, AIOU's commitment to providing quality education remains steadfast. With its user-friendly online admissions process, diverse program offerings, and vibrant virtual learning environment, AIOU poised to shape the future of education. . The university provides a flexible learning schedule, experienced faculty members, and a wide range of programs to choose from. Students can apply online for admission and submit their forms before the deadline to avoid any inconvenience. AIOU committed to providing quality education to students all over Pakistan and a great choice for those who want to pursue higher education while balancing other commitments.
FAQs
1. Is AIOU only for residents of Pakistan? No, AIOU welcomes students from around the world to join its online programs.
2. Can I work while pursuing an online degree at AIOU? Yes, AIOU's flexible schedules make it feasible to work while studying.
3. What types of scholarships does AIOU offer? AIOU offers merit-based scholarships, need-based scholarships, and special category scholarships.
4. How can I connect with fellow students in the virtual environment? AIOU's discussion forums and virtual clubs provide avenues for interaction and networking.
5. What sets AIOU apart from other online universities? AIOU's legacy, experienced faculty, diverse programs, and strong alumni network make it a unique choice for online education.