If you're planning to take exam Canal Patwari exam, it is crucial to understand the scope about the curriculum and types of questions you will be included in the exam. In this article we'll provide the information you need regarding questions in the Canal Patwari past papers, textbooks, and syllabus that can be used for your exam preparation. If you're looking to do well on this PPSC Canal Patwari examination and get a lucrative job within the Irrigation Department, you've come to the right spot. In this extensive guide, we provide you with a wealth of information such as past exams and sample papers, as well as solutions to MCQs as well as the most recent exam syllabus. Canal Patwari exam in 2023. We will also recommend the most important books to assist you on your test training journey.
Understanding the Canal Patwari Exam
Before tackling the preparatory materials, it is essential to know the format and contents that will be covered in this Canal Patwari exam. It is the Punjab Public Service Commission (PPSC) administers this test to evaluate candidates' understanding and abilities related to a range of areas, such as the basics of computer and IT information, general understanding and current events. Pakistani as well as Islamic studies daily science, fundamental mathematical concepts, Urdu, and geography.
The test is comprised of 100 multiple choice questions (MCQs) and applicants must demonstrate their proficiency in specific areas as well as general aptitude. Certain questions might be specific to the irrigation department or the duties of those in the Canal Patwari job role.
Canal Patwari PPSC Past Papers
To be able to excel in any exam practicing is the key to success. So, tackling past papers can be a valuable tool in your exam preparation. We've collected five years of past papers from Canal Patwari which include exam papers from 2017-2018 and 2019, as well as 2020, 2021 and 2022. This will provide you with a complete understanding of the exam's pattern and the types of questions.
Canal Patwari Past Papers Syllabus and Books pdf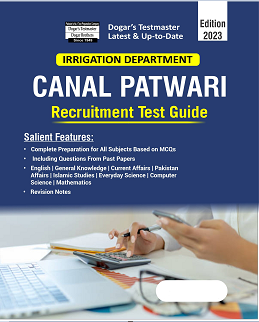 Patwari Books PDF Download
One of the most effective methods to prepare for any examination is to work through past questions. The past papers from Canal Patwari can provide an insight into the kinds of questions included in the test and the difficulty level. It is also a good idea to use them to improve your time management and increase your speed. There are Canal Patwari past papers online on a variety of websites. You must download them and work on the papers in a timely method. Review your performance and find the areas where you are weak. Focus on strengthening your weak spots and continue training until you're confident.
Canal Patwari Syllabus
The Canal Patwari exam consists of four parts:
General Knowledge
Arithmetic Skills
English Language
Punjabi Language
Be sure to set aside enough time to read each subject in depth. Concentrate on understanding the fundamental concepts and apply your knowledge with MCQs or examples of questions.
Download Recommended PPSC Books in Pdf Format

All in One PPSC by Muhammad
Download
ILMI Lecturers Mathematics Test Guide Download by ZR Bhatti
Download
PPSC 75th Edition Solved Past Papers by Dogar Publishers
Download
Advanced PPSC MCQs Model Papers by M Imtiaz Shahid
Download
Recommended Books for Canal Patwari Exam
Alongside past exams as well as the official syllabus, high-quality study materials can play an important role in the preparation process. Below are some highly recommended books that can help you master the subject matter and excelling in exam. Canal Patwari exam:
Everything in One PPSC by Muhammad The comprehensive guide covers a broad range of topics, offering detailed explanations and plenty of practice questions.
ILMI Instructors' Maths Test Book by ZR Bhatti If you require help in maths and related subjects this book is a great source to improve your abilities.
PPSC 75th edition Solved Past Papers Dogar Publishers: Utilize this book to analyze and solve past years' papers solved providing you with insights into the exam format and patterns.
Advanced PPSC Model Papers for MCQs by M Imtiaz Shahid: For those looking to gain an edge in their exam preparation This book has difficult MCQs that will enhance your problem-solving skills.
Conclusion
Your success on passing the Canal Patwari exam depends on thorough preparation, a lot of practicing, and appropriate study material. Through utilizing past exams, sticking to the syllabus and using suggested books, you can be confidently preparing for the exam. Make sure you allocate enough time for each topic, concentrate on mastering the core concepts and utilize online resources to enhance your education. Best of luck in your journey towards becoming an expert at Canal Patwari!