Important Instructions MDCAT Colleges 2023. Medical students who are aspiring and medical students, your path to a career in healthcare starts by taking your Medical College Admission Test (MDCAT) in 2023. The MDCAT is a vital step in being admitted to medical schools It is essential to be prepared and knowledgeable about the procedure. To assist you in passing this exam, here are some crucial instructions and guidelines to remember. Success on the MDCAT isn't just about learning new information. It's about mastering concepts, regularly practicing and staying focus. If you are dedicated and take the right attitude you can master this hurdle on your way to a rewarding career in medicine. Check Online
Important Instructions For Students MDCAT Medical Colleges 2023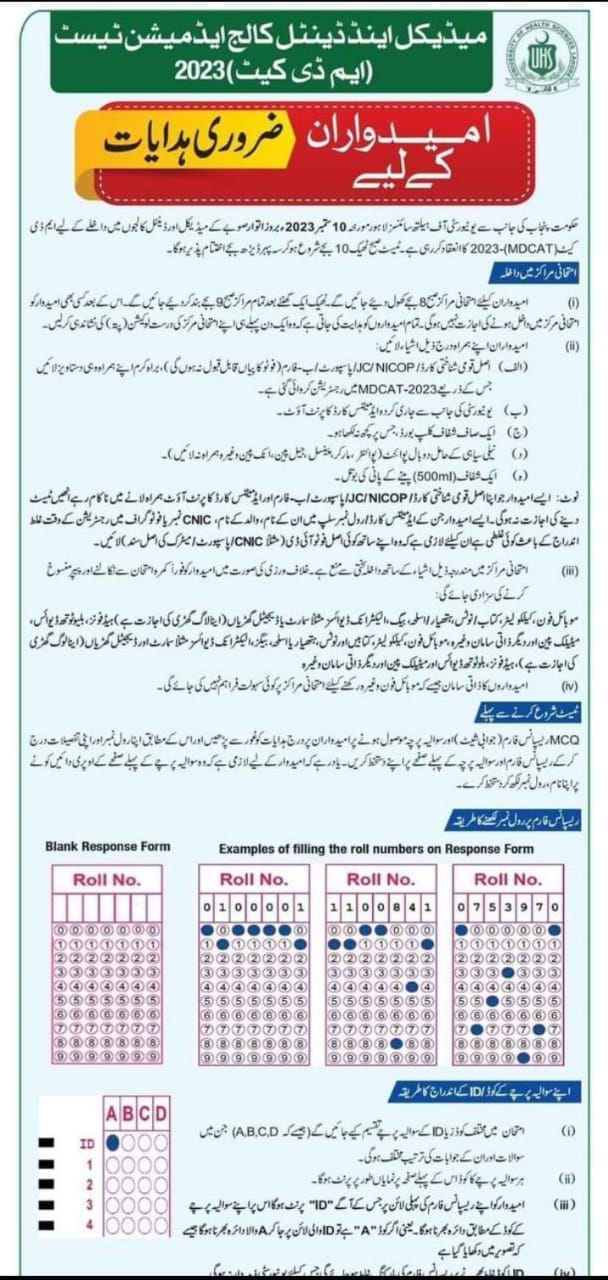 Introduction:
Aspiring medical students, the MDCAT exam is a crucial step towards realizing your dreams of becoming a doctor. The Medical and Dental Colleges Admission Test (MDCAT) is a standardized test that evaluates your knowledge and aptitude in various subjects including biology, chemistry, physics, and English. It is a highly competitive exam that requires thorough preparation and dedication. Click Here
To help you prepare for the MDCAT exam, we have compiled some important instructions that you should keep in mind:
1. Understand the Exam Format
Before you start preparing for the MDCAT exam, it is important to understand the exam format. The exam consists of 200 multiple-choice questions that are divided into four sections: biology, chemistry, physics, and English. Each section carries equal weightage of 50 marks. You will have a total of 150 minutes to complete the exam.
2. Create a Study Plan
Creating a study plan is essential for effective preparation. Divide your time wisely among all four subjects and allocate more time to the subjects that you find difficult. Make sure to cover all the topics thoroughly and revise regularly. You can also join a coaching center or take online courses to get additional guidance.
3. Practice Past Papers
Practice makes perfect! Make sure to practice past papers and sample papers to get an idea of the exam pattern and difficulty level. This will also help you identify your weak areas and work on them.
4. Improve Your Vocabulary
The English section of the MDCAT exam includes comprehension passages and vocabulary-based questions. To score well in this section, it is important to improve your vocabulary. Read newspapers, novels, and other books to enhance your vocabulary.
5. Take Care of Your Health
Your health is as important as your studies. Make sure to take breaks in between study sessions, eat healthy food, and get enough sleep. Exercise regularly to keep your mind and body fresh.
6. Stay Positive
Staying positive and confident is essential for success in any exam. Believe in yourself and your abilities. Don't panic if you find a question difficult, move on to the next one and come back later. Stay focused and calm throughout the exam.
7. Stay Healthy:
Maintaining physical and mental health is vital during your preparation. Get enough sleep, eat nutritious meals, and engage in regular physical activity to keep your energy levels up.
8. Manage Stress:
Don't let anxiety overwhelm you. Stress management techniques such as meditation, deep breathing, and yoga can help you stay calm and focused during the exam.
9. Adhere to Exam Rules:
On the day of the MDCAT, arrive at the exam center well before the scheduled time. Bring all required documents, such as your admit card and identification. Follow the instructions provided by the exam proctors carefully.
10. Stay Informed:
Keep yourself updated with any changes or announcements related to the MDCAT. Visit the official website of the relevant authority regularly to stay informed.
11. Believe in Yourself:
Finally, have confidence in your abilities. Believe that your hard work will pay off, and stay positive throughout your journey to becoming a medical professional.
Conclusion:
In conclusion, the MDCAT exam is a challenging but rewarding experience for aspiring medical students. With proper preparation and dedication, you can score well in the exam and achieve your dream of becoming a doctor. Follow these important instructions and stay focused on your goal. Best of luck!