Pakistan Air Force (PAF) is among the most highly regarded institutions in Pakistan. It provides a rewarding and challenging career path for young people who are devoted to serving their country. The PAF has just announced the registration process for commissioning of officers in 2023. If you're looking to join the PAF as an officer in the rank of commissioned, this article will help you through the process of registering. Are you adamant about serving your country and pursuing your dream job.  Pakistan Air Force (PAF) gives a chance to those who want to be Commissioned Officers. The registration calendar for 2023 being released this article will help you understand the necessary information and steps to be a part of PAF as an Officer Commissioned. Joining the PAF as a commissioned officer is a dream for many young individuals. Online Registration
Join PAF As Commissioned Officer Registration Schedule 2023 Online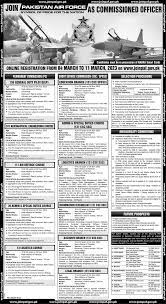 Introduction
The Pakistan Air Force has a long-standing tradition of excellence, bravery, and dedication. Becoming a Commissioned Officer in the PAF is a dream for many. Commissioned Officers the backbone of the force, leading their teams with integrity and valor. To be eligible for the Commissioned Officer role, candidates must meet certain criteria. They should be Pakistani citizens, aged between 16 and 22 years, and have completed intermediate or equivalent education with a minimum percentage. Furthermore, candidates must meet the physical and medical standards set by the PAF.
Registration Process of Join PAF As Commissioned Officer Registration Schedule 2023 Online
The registration process is conducted online. Eligible candidates can visit the official PAF website during the registration period. They need to create an account, fill out the application form, and upload the required documents, including educational certificates, CNIC, and recent photographs.
Selection Procedure, Initial Test, ISSB Testing, Medical Examination Process 2023
The selection process comprises several stages, each designed to evaluate candidates thoroughly. Candidates required to take an initial test that assesses their English, Physics, and Mathematics skills. This test is crucial as it filters candidates for the subsequent stages. Successful candidates from the initial test proceed to the Inter-Services Selection Board (ISSB) testing. The ISSB tests involve intelligence, physical, and psychological assessments. The candidates' leadership qualities, teamwork, and decision-making skills evaluated here. Medical fitness is paramount in the armed forces. Candidates undergo a rigorous medical examination to ensure they are in optimal health to perform their duties effectively.
Interview, Final Merit List, Training, Registration Schedule 2023 Online
Candidates who pass the medical examination invited for an interview. A panel of experienced officers assesses the candidates' suitability for the role through a comprehensive interview. After the interview stage, a final merit list prepared based on candidates' performance in the initial test, ISSB testing, medical examination, and interview. Selected candidates undergo rigorous training at PAF academies. The training encompasses physical fitness, academic courses, military drills, and leadership development.
Benefits of Joining PAF 2023
Joining PAF as a Commissioned Officer offers numerous benefits. These include job security, handsome salary packages, medical facilities, accommodation, and opportunities for personal and professional growth.
Challenges and Rewards
Life as a Commissioned Officer presents both challenges and rewards. Officers entrusted with significant responsibilities and must exhibit unwavering commitment and dedication. The sense of pride and honor, along with the opportunity to serve the nation, makes the challenges worthwhile.
Life as a Commissioned Officer
Life as a Commissioned Officer marked by discipline, camaraderie, and a strong sense of purpose. Officers lead their teams by example and contribute to the country's defense and security.
FAQs
1. Can females apply for Commissioned Officer roles in PAF? Yes, PAF offers various opportunities for both male and female candidates.
2. Is there an age relaxation for candidates belonging to remote areas? Yes, candidates from remote areas are granted age relaxation as per PAF's policy.
3. What is the training duration for Commissioned Officers? The training duration varies but usually lasts around two years, including academic and practical training.
4. Are there opportunities for further education and specialization? Yes, PAF encourages officers to pursue higher education and offers opportunities for specialization in various fields.
5. Can foreign-qualified individuals apply for Commissioned Officer roles? Yes, individuals with foreign qualifications are eligible to apply, subject to equivalence verification.
Conclusion
Joining the Pakistan Air Force as a Commissioned Officer is a prestigious and honorable endeavor. The selection process is rigorous but ensures that only the most dedicated and capable individuals become part of the PAF family. If you're passionate about serving your country and leading with valor, take the first step by registering during the 2023 schedule. Embrace the challenges, relish the rewards, and contribute to a brighter future for Pakistan.