Look no further than Layya University's Online Admission for the academic years 2023-27. This comprehensive guide will walk you through the seamless admission process, the benefits of pursuing your Bachelor of Science (BS) degree at Layya, and how this journey could be your first step towards an exciting and successful future. At Layya University, we believe that education is the key to unlocking one's potential and achieving success in life. Our programs are designed to provide students with the knowledge, skills, and experience necessary to succeed in their chosen fields. We have a team of experienced faculty members who are committed to providing students with a high-quality education that prepares them for the challenges of the future. The admission process at Layya University is entirely online. Online Registration
Layya University Admission Online 2023-27 BS https://ul.edu.pk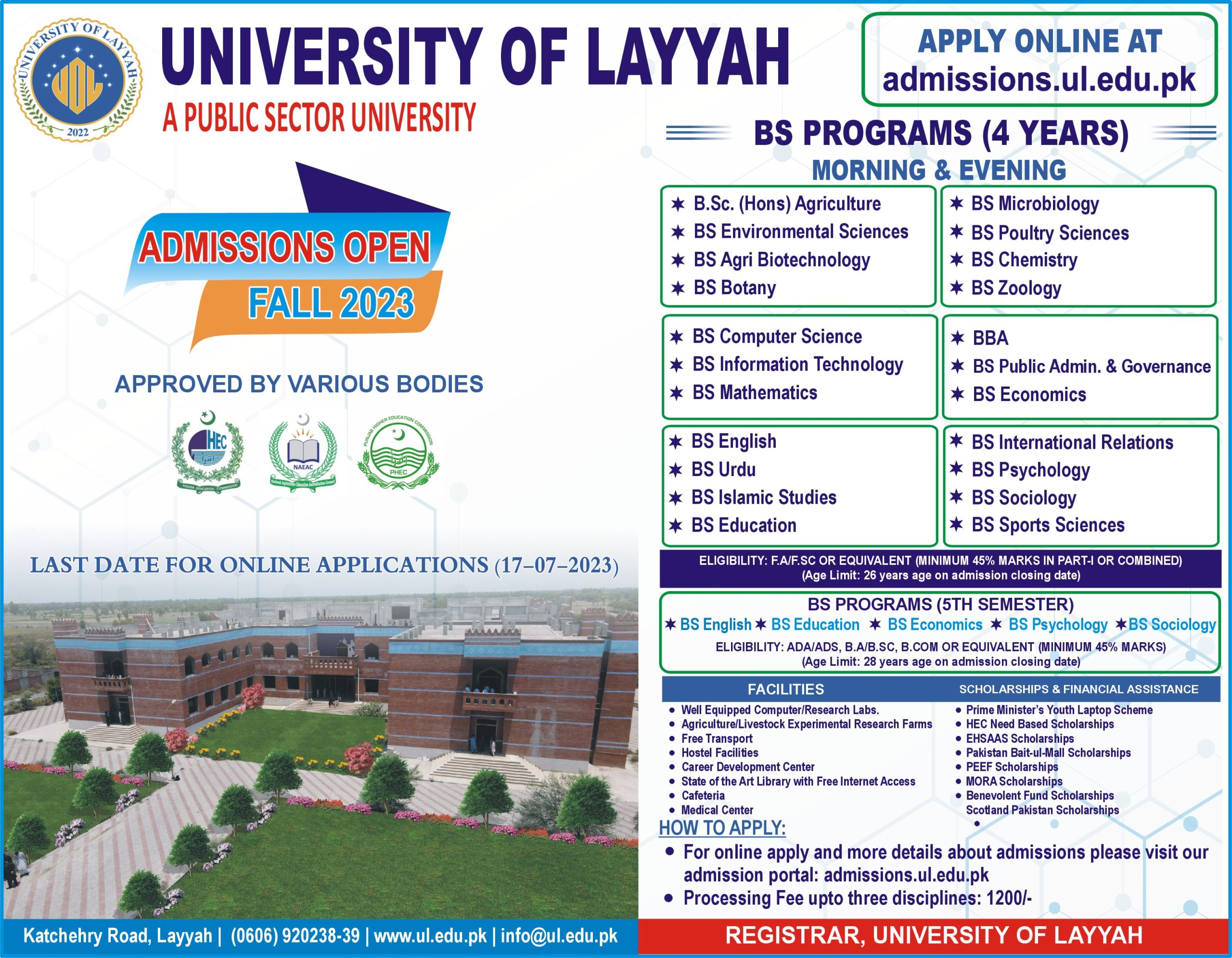 Introduction
Embarking on your journey towards higher education is a crucial milestone, and Layya University aims to make this journey accessible and rewarding. With the launch of the Online Admission process for the academic years 2023-27, Layya is redefining how students can pursue their BS degrees without compromising on quality, engagement, and holistic growth. Click Here
Online Admission Process 2023
Creating Your Online Profile
To start your application, visit Layya University's official website and create your online profile. This profile will serve as your gateway to exploring the diverse programs and opportunities the university has to offer.
Selecting Your Desired Program
Layya University takes pride in offering a wide array of programs across various disciplines. Whether you're inclined towards natural sciences or have a passion for humanities, Layya has a program tailored for you.
Providing Required Documents
Submit the necessary documents, including your academic transcripts, identification, and any additional requirements specific to your chosen program. Ensure that all documents uploaded accurately to expedite the evaluation process.
Application Fee Payment
Complete the online application process by submitting the required application fee. Layya University believes in transparency and will provide you with a breakdown of the fees, ensuring you understand where your investment directed.
Flexible Study Schedules
Layya understands that students have diverse commitments. The flexible study schedules allow you to pursue your degree without disrupting your work, family, or personal life.
Financial Assistance and Scholarships. Layya University committed to making education accessible. Financial assistance available for eligible students, ensuring that financial constraints do not hinder academic pursuits.
Merit-Based Scholarships
Outstanding academic achievements are rewarded through merit-based scholarships. These scholarships recognize and encourage students who exhibit exceptional dedication to their studies.
Sports and Extracurricular Scholarships
Layya University values holistic development. Scholarships are also available for students who excel in sports or extracurricular activities, nurturing talent beyond the classroom.
Student Life and Support Services
Online Library and Resources
Access a wealth of digital resources, research databases, and e-libraries, ensuring you have the tools needed to excel in your studies. Ensure you have access to a stable internet connection and the necessary hardware to participate in virtual classes seamlessly.
Engaging Discussion Forums
Discussion forums foster intellectual discourse. Share insights, challenge ideas, and broaden your perspective through thoughtful discussions.
E-Libraries and Research Opportunities
Layya's digital resources extend beyond textbooks. Access research materials, academic journals, and e-books to enhance your learning experience.
Alumni Success Stories
Real-World Impact of Layya Education
Layya alumni are making significant contributions to various industries. Their success stories reflect the practical education and skills Layya imparts. Notable Alumni Achievements From entrepreneurs and scientists to artists and leaders, Layya's alumni network is a testament to the university's commitment to nurturing exceptional talent.
Admission Deadlines and Important Dates
Mark your calendar for the application period. Layya University announces opening and closing dates well in advance to give you ample time to prepare. Entrance Exam Schedule (If Applicable)Certain programs may require entrance exams. Stay updated on the exam schedule and ensure you're ready to showcase your knowledge.
Conclusion
Embarking on the journey towards a BS degree at Layya University through the Online Admission process is not just about academics; it's about growth, exploration, and transformation. With a commitment to excellence, flexible learning, and holistic development, Layya paves the way for students to achieve their aspirations.
FAQs
1. Can I apply for multiple programs?
Yes, you can apply for multiple programs based on your interests and eligibility.
2. What are the selection criteria for scholarships?
Scholarship criteria vary based on factors such as academic performance, achievements, and program specifics. Check Layya's official website for detailed information.
3. How interactive are the online classes?
Layya's online classes are highly interactive, encouraging active participation, discussions, and engagement with both peers and professors.
4. Is on-campus attendance required at any point?
No, Layya's Online Admission is designed for remote learning, eliminating the need for on-campus attendance.
5. How do I access Layya's online learning platform?
Upon enrollment, you will receive detailed instructions on accessing and navigating the online learning platform effectively.