Local Bodies Election Result 2023. Here you can view the whole UC-by-UC breakdown of the results from the Local Bodies Election Karachi 2023. On January 15, 2023, votes were cast for local officials in eight Sindh province districts. A mayor for the years 2023-2027 of Karachi would be elected by these representatives. Elections for the third time in Karachi's local government. PPP, Jamat e islami, and Tehreek e Insaaf were the three largest parties in this election. There are a total of 246 seats in the Karachi Metropolitan Corporation, with a simple majority of 124 votes required to elect the position of Mayor.
The Election Commission of Pakistan (ECP) announced that voting would begin at 8:00 a.m. and end at 5:00 p.m. You will find a complete list of the winners in the Baldiyati election in Karachi in 2023 below. Baldiyati election karachi 2023 uc list and winners list party wise are available for your perusal.
Karachi LG seats Unofficial Results
The Pakistan Peoples Party (PPP) won five seats and Jamaat-e-Islami three in the port city's crucial local government (LG) polls in 11 union committees (UCs), which will decide the Karachi mayor's race.
11 UCs in Karachi held elections under tight security. The Pakistan Peoples Party (PPP) leads the Karachi Metropolitan Corporation, followed by the JI. The 11 UC results may change this.
JI won Korangi's UC-3 and North Nazimabad's UC-6 chairmanships, according to unofficial results. The JI candidate won Korangi's UC-3 seats with 3,412 votes over the PML-N's 2,544.
JI's Faisal Naseem won UC-6 in North Nazimabad with 2,500 votes. 885 votes placed PPP candidate Hamid Shahid second.
The PPP won UC-2 Baldia in Keamari District, UC-2 Bihar Colony in District South, and UC-2 Korangi with 3,009, 3,245 and 2682 votes, respectively.
Sindh by Election Result 2023 Local Government
Voter Statistics Karachi Division
| | | | | | |
| --- | --- | --- | --- | --- | --- |
| District | Male Voters | Per% | Female Voters | Per% | Total Registered Voters |
| Malir | 448,263 | 57.26 | 334,584 | 42.74 | 782,847 |
| West | 539,793 | 58.69 | 379,955 | 41.31 | 919,748 |
| Central | 1,111,404 | 54.17 | 940,373 | 45.83 | 2,051,777 |
| Keamari | 469,501 | 58.77 | 329,404 | 41.23 | 798,905 |
| South | 666,952 | 54.84 | 549,200 | 45.16 | 1,216,152 |
| Korangi | 789,332 | 55.36 | 636,523 | 44.64 | 1,425,855 |
| East | 840,068 | 53.56 | 728,519 | 46.44 | 1,568,587 |
| Total | 4,865,313 | 55.52 | 3,898,558 | 44.48 | 8,763,871 |
LG elections were held in the following UCs in Karachi: 
UC-4 New Karachi,
UC-6 North Nazimabad
UC-13 New Karachi in District Central;
UC-2 Korangi,
UC-3 Shah Latif Town
UC-8 Landhi in District Korangi
UC-1 Orangi
UC-2 Orangi
UC-8 Mominabad in District West
UC-2 Bihar Colony in District South
UC-2 Baldia in District Keamari
PPP ECP Result Sindh
The PPP had previously complained that the ECP was setting a terrible example by holding polls before the mayoral elections. The PPP wanted the ECP to accept their demand, but the ECP refused. Despite reports of a small number of incidences of violence in various parts of the province, elections were held for the remaining 63 local body seats in five divisions in Sindh.
In Karachi, Hyderabad, Sukkur, Jacobabad, Shikarpur, Ghotki, Khairpur, and other cities, voting began at 8 am and ran uninterruptedly till 5 pm. Meanwhile, voters who were already inside polling booths beyond the 5 p.m. deadline given extra time to cast their ballots by the Election Commission of Pakistan (ECP). It's worth noting that several factors, including the deaths of certain candidates, prevented elections from being held on the seats.
38 seats in 17 districts
There are 38 seats available throughout 17 districts. According to preliminary and unverified data, the PPP won two of Hyderabad's five LG seats. In the city's election, the PTI and an independent candidate each took home one seat. One UC's verdict has not released yet. In Hyderabad, elections were held for chairman and vice-chairmen, district council and general members, and a total of 38 seats across the city's four electoral divisions. For the by-elections, the ECP has set up 147 voting stations across 17 districts, with the Sindh police providing protection. On Saturday, the ECP offices sent ballot boxes and other voting materials to the polling places.
Sindh LG Party Position 2023 Phase 2
| | |
| --- | --- |
| Party | Seats |
| PPP | 579 |
| PTI | 92 |
| Jamat e Islami | 87 |
| IND | 36 |
| GDA | 9 |
| TLP | 8 |
| PMLN | 7 |
| Other | 10 |
We won't accept the fake result'
We refuse to acknowledge this phony outcome. JI Karachi chairman Hafiz Naeemur Rehman claimed to have heard rumors that ballot boxes had tampered with. He further alleged that the police were colluding with the PPP-led government in Sindh because the police were aware that the people there had voted for JI. Chohan was the recipient of Naeem's criticism, who urged him to redeem himself.
We'll be grateful if you do good work, he said. The politician continued by saying that the city's trend well known, and that his party would not tolerate a challenge to its power. He had some harsh words for the signatures on forms 11 and 12. We will not tolerate a rigged election. Naeem added, "We would accept whatever the actual result is. The incumbent government did not obtain votes, which why they resorted to such preparations.
Local Bodies Election Result 2023
Abdur Rasheed, a member of the Provincial Assembly for Sindh, held a demonstration in the neighborhood of Bihar Colony. When I left the polling place, I was verbally abused by those waiting outside the entrance. He said, "I had shown my card and handed over my mobile phone to the officials before entering the polling place.
Meanwhile, the ECP spokesperson reported that an incidence of ballot paper snatching has forced the closure of polling stations 1, 3, 5, and 6 in UC 119 in Hyderabad. He stated that the Election Commission had requested a report from the relevant returning officer and issued orders for swift and severe punishment of those responsible.
Local Bodies Election Sindh Result 2023 for Karachi Mayor
The results of the 2023 elections for Karachi's local bodies have been certified by ECP Sindh. Karachi's mayor was chosen in local elections on January 15th, 2023. There was an election for a mayor of Karachi, and the threshold for victory was 124 out of a possible 235 votes.
Karachi Baldiyati Election 2023 result
When the official combined results from all 235 union committees (UCs) in Sindh's Karachi division were finally revealed by the Election Commission of Pakistan (ECP) about 30 hours after polls closed, the PPP had won 93 seats and the Jamaat-i-Islami had won 86.
The province capital hosted elections for chairman and vice chairman on a Sunday. The final tally gave the PTI 40 seats, putting them in third place, just behind the PML-N's seven.
Despite the party's earlier decision of a boycott of the local body polls, the Muttahida Qaumi Movement-Pakistan won one seat, tied with independent candidates, and ahead of the Tehreek-i-Labbaik Pakistan and the Jamiat Ulema-i-Islam with two seats apiece.
Baldiyati election Karachi 2023 Result
Karachi and Hyderabad for JI and PTI against. PPP in Sindh's Local Body Elections Results as of today, January 15, 2023, can found here. On January 15, 2023, residents of Karachi, Pakistan, expected to cast ballots in the Baldiyati election. Here are the final tally results from our survey. At 5 o'clock, the polls closed for the second and final round of voting in the local governments of several districts in Sindh, including Karachi and Hyderabad. Below is a schedule of all 2023 Karachi municipal elections. For updates on the 15 January 2023 Local Bodies Election Result in Sindh, stay tuned. The final tally from the 2023 Karachi municipal election presented below.
All UCs of district Karachi East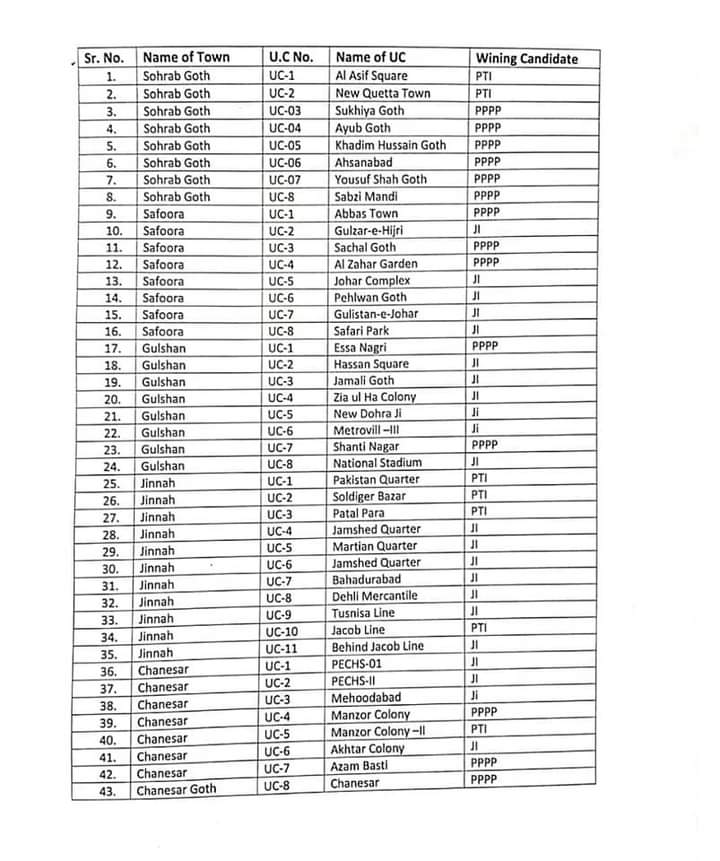 Baldiyati election Sindh District Wise List
| | | | | | | | | | |
| --- | --- | --- | --- | --- | --- | --- | --- | --- | --- |
| District | PTI | PPP | PMLN | JI | IND | GDA | JUIF | TLP | Other |
| Malir | 6 | 15 | 0 | 28 | 1 | 0 | 0 | 0 | 0 |
| Badin | 1 | 63 | 0 | 0 | 0 | 3 | 1 | 0 | 0 |
| Hyderabad | 39 | 94 | 0 | 1 | 16 | 0 | 0 | 2 | 0 |
| Jamshoro | 0 | 62 | 0 | 0 | 2 | 0 | 0 | 0 | 9 |
| Karachi Central | 10 | 15 | 0 | 14 | 2 | 0 | 0 | 3 | 0 |
| Karachi South | 6 | 15 | 7 | 16 | 0 | 0 | 0 | 0 | 1 |
| Karachi West | 6 | 20 | 0 | 14 | 1 | 0 | 0 | 0 | 0 |
| Korangi | 6 | 15 | 0 | 14 | 0 | 0 | 0 | 0 | 0 |
| Matiari | 0 | 29 | 0 | 0 | 1 | 4 | 0 | 0 | 0 |
| Tando Muhammad Khan | 2 | 24 | 0 | 0 | 1 | 0 | 0 | 0 | 0 |
| Thatta | 0 | 107 | 0 | 0 | 6 | 0 | 0 | 0 | 0 |
| Dadu | 10 | 48 | 0 | 0 | 3 | 2 | 1 | 3 | 0 |
| Sajawal | 0 | 35 | 0 | 0 | 1 | 0 | 1 | 0 | 0 |
| Kemari | 6 | 13 | 0 | 0 | 0 | 0 | 0 | 0 | 0 |
| Tando Allahyar | 0 | 24 | 0 | 0 | 2 | 0 | 0 | 0 | 0 |
Election Result of Karachi 2023 Final List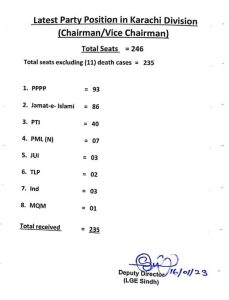 Sindh Local Government Election Result 2023 Party Position
| | |
| --- | --- |
| Party Name | Seats |
| PPP | 93 |
| Jamat e Islami | 86 |
| PTI | 40 |
| IND | 03 |
| PMLN | 07 |
| MQM | 01 |
| JUI | 03 |
| TLP | 02 |