The Punjab Public Service Commission (PPSC) Upcoming Jobs Lecturer, is set to announce upcoming job opportunities for the position of Lecturer in various subjects for the year 2023-24. If you are interested in applying for these positions, this blog post will guide you through the application process. Don't miss this opportunity to be a part of Punjab's esteemed education system. Prepare your documents, stay updated with PPSC announcements, and get ready to apply for the upcoming lecturer positions in 2023-24. The PPSC is a government agency responsible for recruiting individuals for various positions in the Punjab province of Pakistan. The agency has a transparent and merit based recruitment process that ensures that only the most qualified candidates are selected for the job. Check Online Upcoming Jobs PPSC
PPSC Upcoming Jobs Lecturer 2023-24 Online apply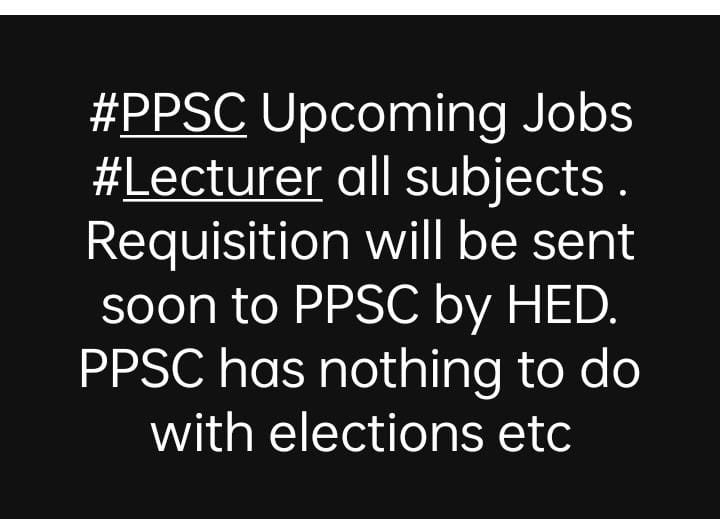 Introduction:
Are you aspiring to become a lecturer in Punjab? The Punjab Public Service Commission (PPSC) has exciting opportunities on the horizon for individuals like you. In the academic year 2023-24, PPSC set to announce a series of lecturer positions across various subjects, and the application process is going online.Click Here
Why Choose a Career as a Lecturer with PPSC?
1. Academic Excellence: Joining the PPSC as a lecturer means being part of a prestigious institution dedicated to academic excellence. You'll have the chance to impart knowledge and shape the future of students.
2. Diverse Subjects: PPSC offers lectureship positions in a wide range of subjects, from humanities and social sciences to STEM fields. This diversity allows you to choose a subject that aligns with your expertise and passion.
3. Competitive Pay: PPSC offers competitive salaries and benefits, ensuring that your dedication to teaching is rewarded.
4. Job Security: Government jobs come with a high degree of job security, making it a stable and reliable career choice.
5. Professional Development: PPSC supports your professional growth through training and development programs, keeping you up-to-date with the latest teaching methodologies and technologies.
How to Apply Online for PPSC Lecturer Jobs 2023-24
1. Visit the PPSC Official Website: To start your application process, visit the official PPSC website.
2. Create an Account: If you don't have an existing account, you will need to create one. This account will used for all future correspondence with PPSC.
3. Fill Out the Application Form: Carefully complete the online application form, providing accurate information and supporting documents as required.
4. Pay the Application Fee: The application process may involve a fee, which can usually be paid online through various payment methods.
5. Submit Your Application: After reviewing your application for accuracy, submit it through the online portal.
6. Keep Track of Updates: Regularly check the PPSC website and your email for updates regarding the selection process, exam dates, and interview schedules.
Key Eligibility Criteria PPSC Upcoming Jobs Lecturer 2023-24
To eligible for PPSC lecturer positions, you typically need:
1. A Master's degree in the relevant subject.
2. A valid teaching certificate (if required).
3. Meeting the age and qualification criteria as specified in the official job advertisement.
Stay tuned for the official job advertisement from PPSC, which will provide detailed information on the available positions, eligibility criteria, and application deadlines. Your journey towards shaping young minds and contributing to the education sector in Punjab starts here. Click Here
To apply for the upcoming Lecturer positions, you must follow these steps:
Step 1: Visit the PPSC website
The first step in the application process is to visit the PPSC website at www.ppsc.gop.pk. Once you are on the website, click on the "Apply Online" button.
Step 2: Create an account
To apply online, you must create an account on the PPSC website. Click on the "New User" button and fill in your personal details, including your name, email address, and password.
Step 3: Fill in the application form
Once you have created an account, you will directed to the application form. Fill in all the required details, including your personal information, educational qualifications, and work experience.
Step 4: Upload your documents
After filling in the application form, you must upload your documents, including your educational certificates, CNIC, and passport-sized photograph. Make sure that all your documents scanned and saved in a PDF format.
Step 5: Pay the application fee
To complete your application, you must pay the application fee. The fee can paid through a bank challan or through an online payment system. The application fee for Lecturer positions is PKR 600.
Step 6: Submit your application
Once you have completed all the steps, click on the "Submit" button to submit your application. After submitting your application, you will receive a confirmation email from the PPSC.
Conclusion:
Applying for a job at the PPSC is a straightforward process that can completed online. Make sure that you have all your documents ready before starting the application process. If you have any questions or concerns, you can contact the PPSC helpline for assistance. We wish you all the best in your job search!