CTD Written Test Past Papers Online Check On Our Page. Welcome to our informative guide on CTD written test past papers! If you are preparing for the upcoming CTD written test conducted by ETEA (Educational Testing and Evaluation Agency), you've come to the right place. Our team is dedicated to providing you with valuable resources and insights to help you excel in the examination. In this article, we will discuss the importance of CTD written test past papers, provide guidance on downloading PDFs, offer preparation tips, and shed light on the test syllabus. Let's dive in!
Why CTD Written Test Past Papers Matter
CTD written test past papers serve as an invaluable tool for aspirants. They offer a glimpse into the examination pattern, question types, and the level of difficulty you can expect. By familiarizing yourself with past papers, you can gain confidence, enhance your problem-solving skills, and develop effective time management strategies. Analyzing these papers enables you to identify recurring question patterns, prioritize topics, and devise a targeted study plan. Click Here
Download CTD Written Test Past Papers PDF
To facilitate your preparation, we have compiled a collection of CTD written test past papers in PDF format. By downloading these papers, you can access them offline and refer to them whenever needed. Our comprehensive repository includes past papers for Senior Field Operator (BPS-14), Field Operator (BPS-11), and Junior Field Operator (BPS-09) positions. These PDFs contain meticulously crafted questions with detailed answers to help you grasp the concepts effectively.
Accessing the CTD written test past papers PDF is straightforward. Simply follow the steps below:
Visit our website, where we have curated an extensive collection of past papers for your convenience.
Navigate to the CTD Police section and locate the respective past papers for your desired position.
Click on the download link provided next to each paper.
Once the PDF is downloaded, save it to your device or print it for offline reference.
Effective Preparation Tips for CTD Written Test
To excel in the CTD written test, it is crucial to have a well-structured preparation strategy. Here are some valuable tips to optimize your study routine:
CTD Written Test Past Papers Online Download PDF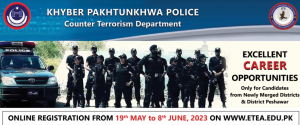 Understand the Test Syllabus
Familiarize yourself with the CTD written test syllabus, which will be announced by ETEA soon after the registration process concludes. The syllabus will provide you with a clear outline of the topics and subtopics that will be covered in the examination. Make sure to allocate sufficient time to each section based on its weightage.
Online Test Preparation Mcqs
Analyze the Exam Pattern
By analyzing the exam pattern, you can gain insights into the structure and format of the CTD written test. Determine the number of sections, the type of questions (multiple-choice, descriptive, etc.), and the time allotted for each section. This information will enable you to devise an effective time management strategy during the actual examination.
Practice with Past Papers
Utilize the CTD written test past papers as a primary resource for your preparation. Solve these papers under simulated test conditions to assess your current level of preparation. Pay attention to areas where you face challenges and work on improving your performance gradually.
Develop a Study Schedule
Create a study schedule that provides dedicated time for each topic. Break down your preparation into manageable chunks and allocate specific time slots for different subjects or sections. Following a structured study plan will ensure that you cover all the essential topics and have sufficient time for revision.
Seek Clarification
If you encounter any difficulties while solving past papers or studying specific concepts, don't hesitate to seek clarification. Reach out to subject matter experts, join online forums, or participate in study groups to enhance your understanding. Clarifying doubts promptly will prevent misconceptions and help you develop a strong conceptual foundation.
Time Management Strategies
Since time is a critical factor in any examination, practice time management techniques while solving past papers. Set a time limit for each section and strive to complete it within the allocated time. This practice will enhance your speed, accuracy, and efficiency during the actual CTD written test.
Regular Revision
Regular revision is essential to consolidate your learning and ensure long-term retention. Allocate dedicated time for revision in your study schedule. Review the topics you have covered, solve additional practice questions, and reinforce your understanding through revision notes.
By implementing these effective preparation strategies, you can enhance your performance and maximize your chances of success in the CTD written test.
CTD Police KPK Written Test Syllabus
The CTD Police KPK written test syllabus will be announced by ETEA shortly after the registration process ends. The syllabus provides a comprehensive outline of the topics that will be covered in the examination. It is essential to study each topic in-depth and allocate time according to its weightage. By being well-versed with the syllabus, you can focus your preparation on the most important areas. Stay connected with our website for the latest updates on the CTD Police KPK written test syllabus.
Conclusion
In conclusion, the CTD written test past papers are a valuable resource for aspirants preparing for the upcoming examination. By downloading the PDFs, understanding the test syllabus, and implementing effective preparation strategies, you can boost your confidence and improve your performance. Remember to practice time management, seek clarification when needed, and dedicate time to regular revision. Stay connected with our website for the latest updates and resources related to the CTD written test. Best of luck on your journey to success!