Are you looking for a career in the banking industry? Do you want to work for an organization that values integrity, transparency, and social responsibility? If so, then Islamic banking may be the right choice for you. Islamic banking is a rapidly growing sector that is gaining popularity worldwide. In this blog post, we will discuss the online application process for Islamic bank jobs in 2023. Islamic banking operates on the principles of Shariah law, which prohibits charging or paying interest (riba) and promotes risk sharing and profit sharing. The Islamic banks offer a range of financial products and services, including savings accounts, current accounts, investment accounts, home financing, car financing, and personal financing. Islamic banking is not only for Muslims but also for non-Muslims who are interested in ethical banking. Online Apply
Islamic Bank Jobs 2023 Online Apply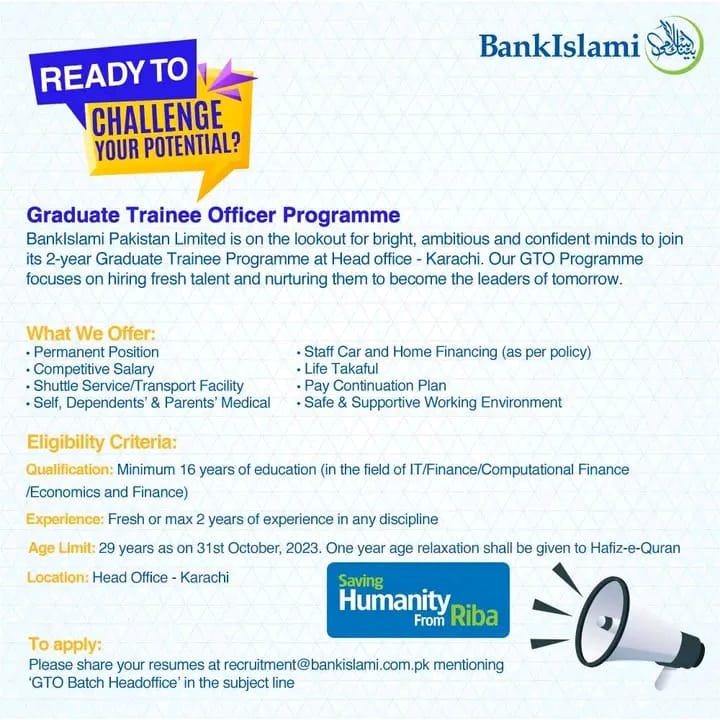 Introduction:
Dubai Islamic Bank is a leading name in the world of Islamic banking, and its Karachi branch is no exception. Established with a commitment to offering ethical and sharia-compliant financial services, DIB Karachi has earned a stellar. Reputation for its customer-centric approach and unwavering dedication to Islamic principles. Click Here
Why Choose Dubai Islamic Bank Karachi?
Islamic Banking Excellence: Join an institution that adheres to Islamic banking principles, promoting financial solutions that are in line with your faith.
Growth Opportunities: DIB Karachi values its employees' growth. As part of our team, you can expect to have access to continuous learning and development opportunities.
Innovative Work Environment: Be a part of a dynamic and forward-thinking organization that encourages innovation and creativity.
Work-Life Balance: At DIB Karachi, we understand the importance of work-life balance, and we offer flexible working arrangements to support your well-being.
Diverse and Inclusive Culture: We believe in the strength of diversity and inclusivity. Join a team where your unique perspectives are celebrated.
Available Positions:
Dubai Islamic Bank Karachi is offering various positions across different departments, providing opportunities for candidates with diverse skill sets and experiences. Whether you're a fresh graduate or an experienced professional, there might be a role for you.
To apply for Islamic bank jobs in 2023, you need to follow these steps:
Step 1: Research the job market
Before applying for any job, it essential to research the job market to understand the demand for the position you are interested in. You can use online job portals, company websites, and social media platforms to search for Islamic bank jobs in your area. You should also read about the job descriptions, requirements, and qualifications to determine if you are a good fit for the job.
Step 2: Prepare Your Resume And Cover letter
Your resume and cover letter are your first impressions on potential employers. Therefore, it is essential to make them professional and tailored to the job you are applying for. Your resume should highlight your education, work experience, and skills that are relevant to the job. Your cover letter should introduce yourself, explain why you interested in the job, and how you can contribute to the organization.
Step 3: Apply online
Most Islamic banks have an online application system that allows candidates to apply for jobs from anywhere in the world. You need to visit the bank's website and create an account by providing your personal information, such as name, address, email, and phone number. You will also need to upload your resume and cover letter and fill out an application form that asks for your education, work experience, skills, and references.
Step 4: Wait For A Response
After submitting your application, you need to wait for a response from the bank. The bank may contact you via email or phone to schedule an interview or ask for additional information. It is essential to check your email and phone regularly and respond promptly to any communication from the bank.
Step 5: Prepare For The Interview
If you selected for an interview, you need to prepare yourself by researching the bank's history, values, and products. You should also review your resume and cover letter and practice answering common interview questions. Dress professionally and arrive early at the interview venue.
Conclusion:
In conclusion, applying for Islamic bank jobs in 2023 is a straightforward process that requires research, preparation, and patience. By following these steps, you can increase your chances of getting hired by an Islamic bank that aligns with your values and career goals. Good luck!