University Of Sailkot Admission 2023. The University of Sailkot is pleased to announce that admissions for the year 2023 are now open. Prospective students can apply online through our website and take advantage of the convenience and ease of the application process. At the University of Sailkot, we are committed to providing our students with a world-class education that prepares them for success in their chosen fields. Our faculty members are experts in their respective fields, and our state-of-the-art facilities provide students with an exceptional learning environment. Apply And Registration Online
University Of Sailkot Admission 2023 Online Apply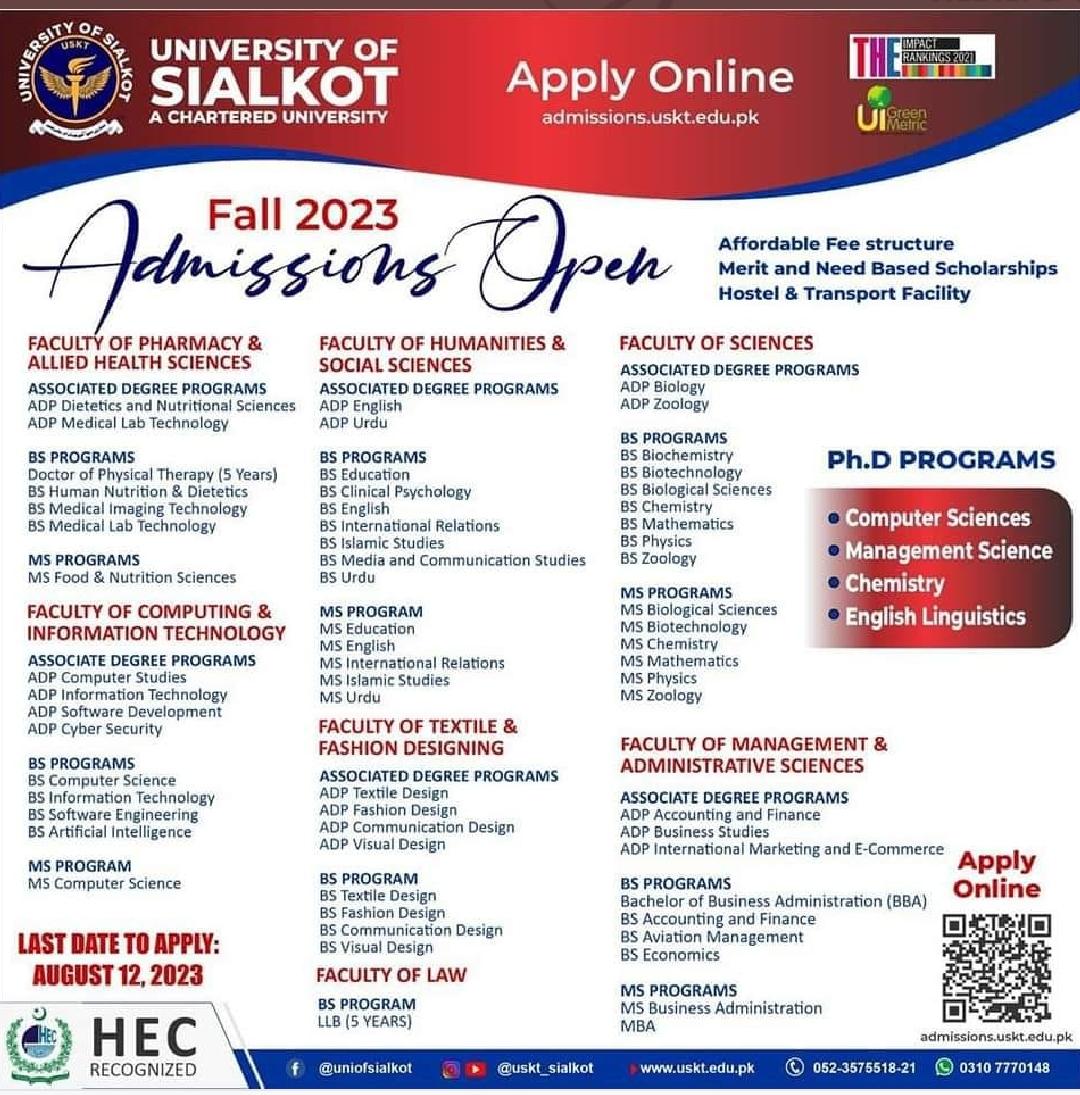 Introduction:
The University of Sialkot is gearing up for its 2023 admissions cycle, and this time, it's more convenient than ever with the introduction of online application submissions. Aspiring students, prepare to embark on an educational journey that promises not only academic excellence but also a nurturing environment for personal and professional growth. Click Here
Why Choose the University of Sialkot?
Academic Excellence: The University of Sialkot has a proud tradition of academic excellence, offering a wide range of undergraduate and postgraduate programs across various disciplines. Our dedicated faculty, state-of-the-art facilities, and a student-centric approach ensure that you receive a top-tier education.
Industry-Relevant Programs: Our curriculum is designed to meet the demands of today's job market. We offer programs that align with industry needs, giving you a competitive edge in your chosen field.
Modern Campus: Our campus provides a conducive environment for learning, equipped with modern classrooms, well-stocked libraries, cutting-edge laboratories, and recreational facilities to help you balance academics and extracurricular activities.
Scholarships and Financial Aid: We understand the importance of affordable education. The University of Sialkot offers various scholarships and financial aid options to deserving students, making quality education accessible to all.
Research Opportunities: We encourage research and innovation. With opportunities to engage in research projects and access to research grants, you can contribute to the academic community while pursuing your studies.
How to University Of Sailkot Admission 2023 Apply Online
Applying to the University of Sialkot is now easier than ever. Follow these steps to submit your online application for the 2023 admissions:
Visit the University's Official Website: Head over to the university's official website, where you'll find the online application portal.
Create an Account: Register for an account on the portal. You'll need a valid email address to receive updates and notifications regarding your application status.
Fill Out the Application Form: Complete the online application form, providing accurate and up-to-date information. Make sure to double-check your details before submission.
Upload Required Documents: Scan and upload the necessary documents, including your academic transcripts, certificates, and a recent passport-sized photograph.
Pay the Application Fee: Pay the application fee through the secure online payment gateway provided on the portal.
Submit Your Application: After verifying all the information and documents, submit your application.
Check Application Status: You can monitor the status of your application through your online account. Be sure to keep an eye out for any communication from the university regarding interviews, admission tests, or further instructions.
Important Dates
Mark your calendars with these crucial dates for the University of Sialkot's 2023 admissions:
1. Application Deadline: [Insert Deadline]
2. Admission Test (if applicable): [Insert Date]
3. Interview Dates: [Insert Dates]
4. Merit List Announcement: [Insert Date]
5. Commencement of Classes: [Insert Date]
Don't miss this opportunity to be a part of a prestigious institution that values knowledge, innovation, and personal growth. Apply to the University of Sialkot for the 2023 admissions and embark on a journey towards a brighter future. Your aspirations await – seize them with us!
Programs Offers
We offer a wide range of undergraduate and graduate programs in fields such as business, engineering, computer science, social sciences, and many others. Our programs are designed to provide students with a comprehensive education that combines theoretical knowledge with practical skills. We believe that this approach is essential for preparing students for the challenges of the modern workforce.
To Apply for Admission
To apply for admission, prospective students can visit our website and complete the online application form. The application process is simple and straightforward, and our admissions team is available to answer any questions that students may have. In addition to academic excellence, the University of Sailkot also places a strong emphasis on extracurricular activities. We believe that a well-rounded education includes not only academic learning but also opportunities for personal growth and development. Our campus offers a wide range of clubs, organizations, and sports teams that allow students to explore their interests and develop their skills outside of the classroom.
At the University of Sailkot, we are committed to providing our students with an exceptional educational experience that prepares them for success in their careers and in life. We invite all prospective students to apply for admission and join our community of scholars and learners.
Conclusion:
In conclusion, if you are looking for a university that values academic excellence, practical skills, and personal growth, then the University of Sailkot is the right choice for you. Apply online today and take the first step towards a bright future!