Meezan Bank Jobs Opportunities 2023, one of the leading Islamic banks in Pakistan, has recently announced job opportunities for the year 2023. The bank is inviting applications from talented individuals who are passionate about building a career in the banking sector. Meezan Bank is renowned for its commitment to providing Shariah-compliant financial solutions to its customers. The bank has a strong presence in the country, with over 800 branches and a workforce of more than 14,000 employees. The bank's success is a testament to its dedicated team of professionals who work tirelessly to provide exceptional service to their customers. Meezan Bank is an equal opportunity employer and encourages diversity in the workplace. The bank offers a competitive salary package and a range of benefits to its employees, including health insurance, retirement plans, and professional development opportunities. Online Apply
Meezan Bank Jobs Opportunities 2023 Online apply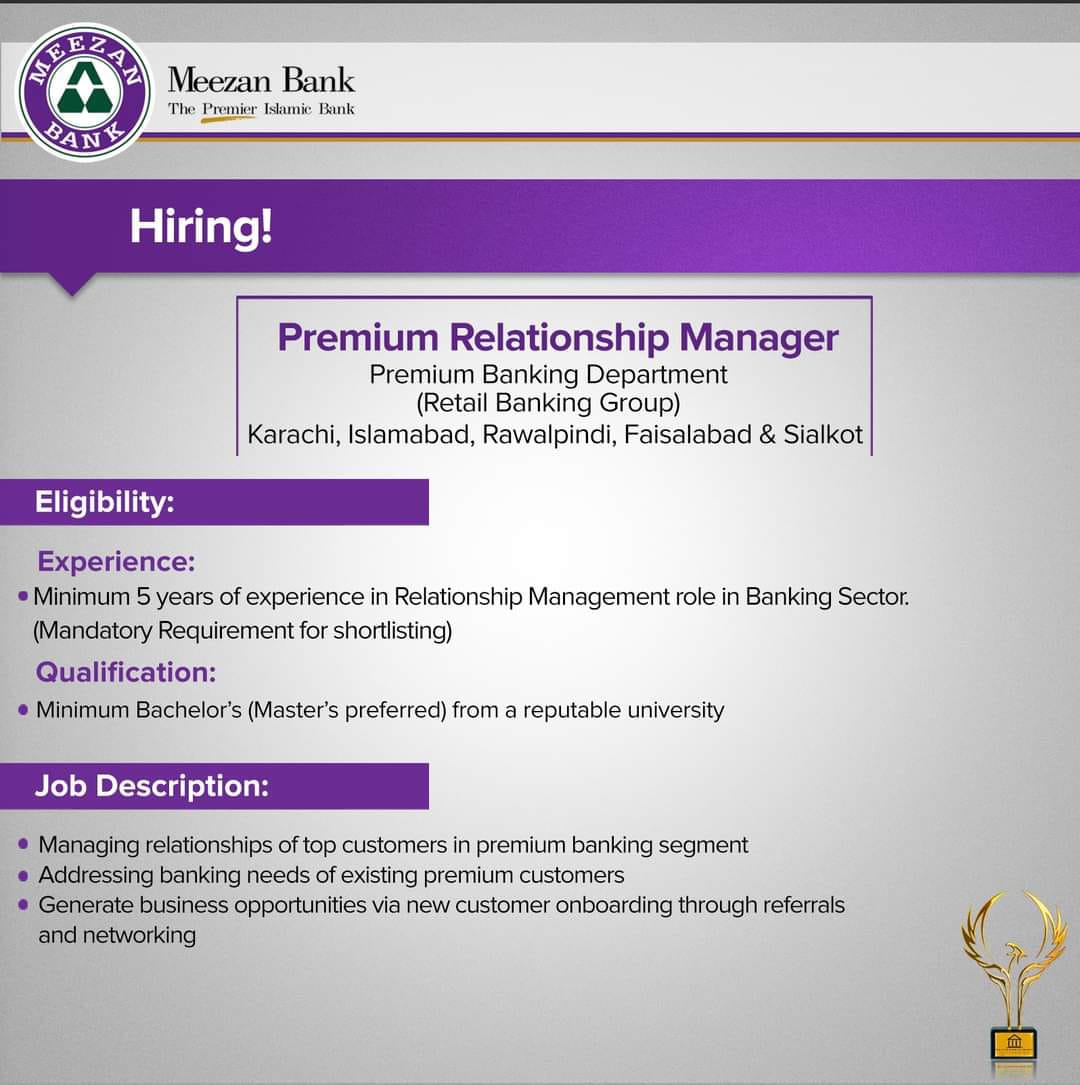 Introduction:
The job opportunities at Meezan Bank are diverse, with positions available in various departments, including retail banking, corporate banking, operations, finance, and human resources. The bank is looking for individuals who possess the necessary skills and qualifications to excel in their respective roles.
To apply for a job at Meezan Bank, interested candidates can visit the bank's website and submit their application online. The application process is simple and straightforward, with candidates required to fill out a form and attach their resume and other relevant documents. Click Here
Why Meezan Bank?
1. Sharia-Compliant Banking: Meezan Bank is Pakistan's first and largest Islamic bank, operating in strict adherence to Sharia principles. This provides employees with a unique opportunity to work in an environment that aligns with their ethical values.
2. Awards and Recognition: Meezan Bank has received numerous awards and accolades for its outstanding performance in the banking industry, making it a prestigious place to work.
3. Career Growth: Meezan Bank is committed to nurturing talent and offers ample opportunities for career growth and professional development.
Job Opportunities
Meezan Bank is currently seeking talented and motivated individuals to join its team across various departments. Whether you are an experienced professional or a fresh graduate, there are opportunities for you to excel at Meezan Bank. Some of the positions available include:
1. Customer Relationship Officer: If you have excellent communication skills and a passion for building relationships, this role is perfect for you.
2. Banking Operations Specialist: If you are detail-oriented and have a knack for handling financial transactions, consider this position.
3. Credit Analyst: For those with a strong analytical mindset and a keen eye for risk assessment, this role offers a challenging and rewarding career.
4. Digital Banking Specialist: As the banking industry evolves, Meezan Bank is at the forefront of digital innovation. Join the team that's shaping the future of banking.
Online Application Process
Applying for a job at Meezan Bank is a straightforward process:
1. Visit the Meezan Bank official website(https://www.meezanbank.com/).
2. Navigate to the "Careers" or "Jobs" section.
3. Browse through the available job listings and select the position that suits your skills and interests.
4. Click on the job title to access the detailed job description and requirements.
5. Follow the instructions provided for submitting your application online.
Working at Meezan Bank
Working at Meezan Bank is not just a job; it's a career. The bank is committed to providing its employees with a supportive and challenging work environment that fosters growth and development. The bank's culture is one of collaboration, innovation, and excellence, where employees are encouraged to think outside the box and come up with creative solutions to complex problems.
Conclusion:
In conclusion, if you are looking for a challenging and rewarding career in the banking sector, Meezan Bank is the place for you. With its commitment to Shariah-compliant financial solutions and a strong focus on employee development, Meezan Bank offers an exciting opportunity to build a successful career in one of Pakistan's leading banks. So why wait? Apply now and take the first step towards a bright future with Meezan Bank.